For Parents About Adoption and Related Issues
Have you read any of the books listed here? Would you like to let others know what you thought of it? If so, please fill out a Book Review
and I will add your comments. A
next to a book indicates that it has been added in the last month.
Alphabetically by author, A-G
Parenting Your Adopted Child: A Positive Approach to Building a Strong Family
by Andrew Adesman and Christine Adamec, published May 2004
"Parents of adopted children face some unique challenges in addition to all the ?regular? issues that come with being a parent. Parenting Your Adopted Child provides helpful tools that enable families to understand and counter common myths about adoption that may be harmful to their children. It also clearly demonstrates how parents can effectively tailor their parenting approach to suit their child's distinct needs. Written by a renowned pediatrician who specializes in helping adopted children and their families, Parenting Your Adopted Child answers such common concerns as: * Why, when, and how do I explain adoption to my child and others? * How can I help my child deal with adoption at different stages of life? * How do I nurture a strong relationship between siblings? * How do I bond with my newborn?"

Adopting Eldar: Joy, Tragedy and Red Tape
by Randall Baker, published April 2005.
"How often does a child adopt his parents? In this case, a teenager from the Caucasus, part Kazakh/part Russian, takes on this challenge in the early 1990's after his father is killed in an avalanche. As the process proceeds, the USSR collapses and vanishes. In addition, he has a mother and brothers, speaks no English, it is not possible for an unaccompanied minor to leave the Soviet Union, and as for adoption, no-one quite seemed to know the rules. But, it happens, and immediately, everything changes." Also available in paperback. For more information, visit the author's website for Adopting Eldar. It can also be downloaded in electronic form from Author House Publishers

When Friends Ask about Adoption: A Question and Answer Guide for Non-Adoptive Parents and Other Caring Adults
by Linda Borhun, revised December 1987
"Friends and family often have questions about the adoption process, but they may be embarrassed or afraid to ask them. This book answers these unasked questions. It shows how friends and family can be supportive of the adoptive family. When friends ask about adoption would make a good gift for anyone who interacts with members of an adoptive family (neighbors, doctors, clergy, coaches, etc.). It also makes a great teacher present."

Parenting Your Internationally Adopted Child
by Patty Cogen, published June 2008
"Every year, more and more Americans are expanding their families through international adoption. This book explains how to help a child adopted between the ages of six months and five years cope with change, bond with his or her new parents, become a part of the family, and develop a positive self-image that incorporates both American identity and ethnic origins. With advice on language and educational challenges and the development of self-control and independence, Cogen guides adoptive parents all the way through their children's teen years. "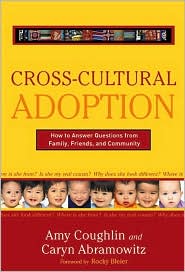 Cross-Cultural Adoption: How to Answer Questions from Family, Friends, and Community
by Amy Coughlin and Caryn Abramowitz, published August 2004
"Families who adopt children from other countries are faced with myriad questions -- from friends, coworkers, family members, classmates, and caretakers alike. If left unanswered, these questions can spawn misunderstanding and hurtful remarks capable of shattering a vulnerable child's sense of belonging: "She's not my real cousin! She's Chinese!" Drawing from their experiences as adoptive parents of foreign-born children, authors Caryn Abramowitz and Amy Coughlin give us Cross-Cultural Adoption, a unique guidebook to help relatives and friends of adoptive families address important questions before everyone gathers around the dinner table. International adoption rates have increased by more than 300 percent in the last decade alone. Cross-Cultural Adoption responds to this changing face of the American family by providing you accessible answers and information on this often sensitive subject. Written by two adoptive mothers, Cross-Cultural Adoption responds to the changing face of American families by providing accessible and extremely useful information in response to some of the most common -- and toughest -- questions asked about cross-cultural adoption. It is an invaluable learning tool for anyone whose life is touched by international adoption. Whether you're a parent or grandparent, a teacher or bus driver, a Little-League coach or Girl Scout troop leader, you can make a difference. With support and understanding, you can let her know that no matter where she came from, she belongs."

↑ Top of page ↓ Bottom of page


The Complete Book of International Adoption: Finding Your Child by Dawn Davenport, published November 2006
"Early in the book, author Dawn Davenport helps readers decide if adoption is right for them and points out the pros and cons of domestic versus international adoption. Next, she provides easy-to-use tables on the top fifteen countries placing children abroad, including country-specific information on restrictions (against single, elder, divorced, or gay parents) and overviews of the children available (by age, ethnicity, gender, etc.) Once a country has been selected, Davenport shows readers how to choose the best adoption agency, which documents to begin compiling, and organizational tips, worksheets, and step-by-step guidance to completing paperwork quickly and thoroughly the first time.The author will maintain a Web site with the most up-to-date regulations and procedures, and there will be regular revisions to the book to ensure that it is completely current. Containing great ideas for stress-relieving things to do while waiting for a child, anecdotes from real adoptive parents, and the author's blend of expertise and reassurance, this book will unite millions of parents and children as it serves a vast and growing market." The author's website is Creating a Family. I am not a big fan of these generic types of books, because too often they are too general and out-of-date by the time they are printed. The author is active on many of the adoption lists and makes a real effort to stay informed, including providing updates on her website.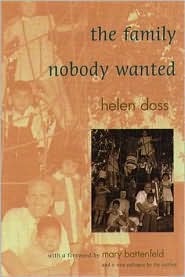 Family Nobody Wanted by Helen Grigsby Doss, published October 2001
"Originally published in 1954, it is the remarkable and inspiring true story of a couple who adopted twelve children, ten of them considered "unadoptable" because of mixed racial parentage. Doss's charming, touching, and at times hilarious chronicle tells how each of the children, representing white, Chinese, Japanese, Filipino, Korean, Mexican, and Native American backgrounds, came to her and husband Carl, a Methodist minister. She writes of the way the "unwanted" feeling was erased with devoted love and understanding and how the children united into one happy family. Her account reads like a novel, with scenes of hard times and triumphs described in vivid prose. The Family Nobody Wanted, which inspired two films, opened doors for other adoptive families and was a popular favorite among parents, young adults, and children for more than thirty years. Now this edition will introduce the classic to a new generation of readers. An epilogue by Helen Doss that updates the family's progress since 1954 will delight the book's loyal legion of fans around the world."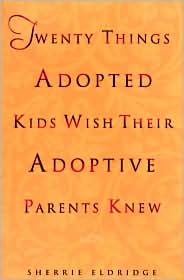 Twenty Things Adopted Kids Wish Their Adoptive Parents Knew
by Sherrie Eldridge, published October 1999
"The voices of adopted children are poignant, questioning. And they tell a familiar story of loss, fear, and hope. This extraordinary book, written by a woman who was adopted herself, gives voice to children's unspoken concerns, and shows adoptive parents how to free their kids from feelings of fear, abandonment, and shame."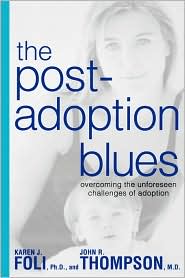 Post-Adoption Blues: Overcoming the Unforseen Challenges of Adoption
by Karen J. Foli and John R. Thompson, published July 2004
"Over 150,000 people adopt children each year, and more than 2 million parents are now raising adopted children and grandchildren. While the path to parenting through adoption is rich with rewards and fulfillment, it's not without its bumps. This compassionate, illuminating, and ultimately uplifting book is the first to openly recognize the very normal feelings of stress that adoptive families encounter as they cope with the challenges and expectations of their new families. Where do parents turn when the waited-for bonding with their adopted child is slow to form? When they find themselves grieving over the birth child they couldn't have? When the child they so eagerly welcomed into their home arrives with major, unexpected needs? Until now, adoptive parents have had to struggle silently with their feelings, which can range from flutters of anxiety to unbearable sadness. At last, Karen J. Foli, a registered nurse, and her husband, John R. Thompson, a psychiatrist, lift the curtain of secrecy from "Post Adoption Depression Syndrome" (PADS). Drawing on their own experience as adoptive parents as well as interviews with dozens of adoptive families and experts in the field, the couple offers parents the understanding, support, and concrete solutions they need to overcome post-adoption blues-and open their hearts to the joy adoption can bring."

↑ Top of page ↓ Bottom of page


Till There Was You - An Adoption Expectancy Journal
by Rebecca Lyn Gold, published June 1998
"It is like a 'pregnancy' journal, but for adoptive moms.. . All the things you are thinking about or fear are dealt with."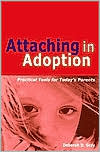 Attaching in Adoption: Practical Tools for Today's Parents
by Deborah D. Gray, published March 2002
"Today's typical adoptive parents need help to understand how prior experiences and changes in caregivers, in culture, in language, and more can create challenges for children needing to form attachments to their new parents. They need advice about how to obtain proper diagnosis, how to build a caring team for helping their child learn about relationships, how various approaches to parenting and teaching can make a difference, and how to find a therapist adequately informed, prepared, and experienced in the challenges facing these families." See the publisher's page for a table of contents and reviews.

Nuturing Adoptions
by Deborah D. Gray, published July 2007
"From the author of Attaching in Adoption (already a must-have book for both adoptive parents and placement professionals) comes this new tool designed to help placement professionals and therapists whose practices are not focused specifically on adoption and attachment understand how new research on the impact of neglect, abuse, early trauma, and institutionalization on the developing brains of children can guide their practices in new directions. Nurtring Adoption?s goal is to help professionals to assist parents in healing their children?s and guiding them into strong and healthy relationships and productive adulthood."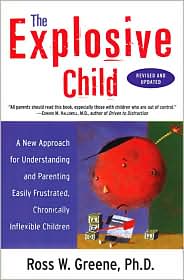 The Explosive Child: A New Approach for Understanding and Parenting Easily Frustrated, Chronically Inflexible Children
by Ross Greene, published September 2005
"By teaching parents how to communicate with an inflexible son or daughter who feels there is no way out other than to throw a fit, The Explosive Child miraculously helps families unlearn the habits that lead to incendiary behavior. The book equips parents with the necessary skills to defuse and even prevent the intense situations that all-too-frequently arise with a volatile child."

|

Adoption H-K
|
---
|
Page last updated on 31 August 2011.
Copyright © 2000-2016 Kazakh Adoptive Families. All rights reserved. Privacy Policy