For Parents About Adoption
Have you read any of the books listed here? Would you like to let others know what you thought of it? If so, please fill out a Book Review
and I will add your comments. A
next to a book indicates that it has been added in the last month.
Alphabetically by author, H-K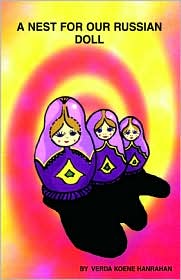 A Nest For Our Russian Doll
by Verda Koene Hanrahan, published July 2004
"A heartwarming book about a couple's struggle with infertility and the eventual adoption of their daughter. This journey leads them halfway across the world to a village north of Moscow where they meet a small two-and-a-half-year-old child who had only known the orphanage as home. It takes you through her transition to America with her new family. This is a story that would bring hope to any couple trying to realize their dream of starting a family."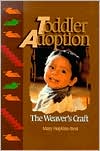 Toddler Adoption: The Weaver's Craft
by Mary Hopkins-Best, published October 1998
Excellent reference for adopting a toddler, the common age for international adoptions. Some potential adoptive parents find the book a little frightening, as it does present some worst case scenarios. "When a child is adopted as a toddler, his needs and those of his adoptive family are different from the needs seen in infant or school-age adoptions. Yet few resources are available to deal with these special issues. In this work, Hopkins-Best, a child development expert and mother of a child adopted as a toddler, provides a guidebook for those considering toddler adoption or those already struggling with its special challenges. She discusses at length strategies for dealing with issues such as a grieving toddler or attachment disorder. She also explains normal toddler development and possible variances in the adopted toddler. The appendix provides a wonderful list of resources. Perhaps most valuable are the anecdotes of both successes and failures from other toddler adoptive families."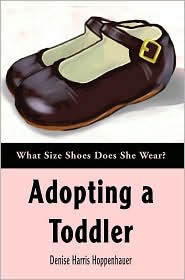 Adopting A Toddler: What Size Shoes Does She Wear?
by Denise Hoppenhauer, new edition January 2004
"a comprehensive guide for those who have decided to adopt a toddler and want to know what to do next. The practical advice offered here was written with the unique needs of adopted toddlers in mind; combined with personal experience. This book includes such topics as naming your toddler, baby showers, waiting to complete your adoption, the toddler wardrobe, the nursery, child safety, childcare, mealtime, bath time, selecting a pediatrician, medical considerations for adopted children, international adoption, adoption travel, post adoption, resources and more." This book has gotten excellent reviews by those in the international adoption field.

Loved by Choice: True Stories That Celebrate Adoption
by Susan E. Horner and Kelly Fordyce Martindale, published March 2002
"Whether it's the joy-filled decision to welcome a child into your home or the difficult decision to place your child in another's arms -- adoption is making the choice to love unselfishly and unconditionally. Loved by Choice offers a clear and uplifting look at adoption through true stories told from virtually every perspective. Birth parents, adoptive parents, grandparents, adopted children, and families enhanced by special needs, interracial, and foreign adoptions are among those who share their joys and difficulties. The collection is a tender celebration of adoption, led by those who understand it best."

↑ Top of page ↓ Bottom of page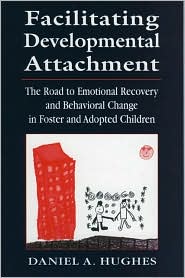 Facilitating Developmental Attachment
by Daniel A. Hughes, published March 2000
"This book shows how to work successfully with emotional and behavioral problems rooted in deficient early attachments. In particular, it addresses the emotional difficulties of many of the foster and adopted children living in our country who are unable to form secure attachments."
Another of his books: Building the Bonds of Attachment: Awakening Love in Deeply Troubled Children was just updated in September 2006. "This work is a composite case study of the developmental course of one child following years of abuse and neglect. This work focuses on both the specialized psychotherapy and parenting that is often necessary in facilitating a child's psychological development and attachment security. It blends attachment theory and research, and trauma theory with general principles of both parenting and child and family therapy in developing a model for intervention. This work is a practical guide for the adult--whether professional or parent--who endeavor to help such children."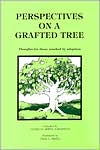 Perspectives on a Grafted Tree: Thoughts for Those Touched By Adoption
by Patricia I. Johnston, published July 1996
"a collection of poetry by and for those who have been touched by adoption. The collection does not deal with wishful, romantic fantasy, but with the many realities that are a part of the adoption process. It is an attempt to promote an understanding of the wide variety of feelings which often alienate members of the adoption triangle from one another. It is meant to be read by adoptive parents and adoptive parents-to-be, ... by adoptees..."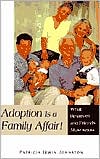 Adoption Is a Family Affair!: What Relatives and Friends Must Know
by Patricia Irwin Johnston, published May 2001
"Don't you wish that there was an easy way to explain the hows and whys of adoption to your parents and the other members of your family? Well, wish no more. Have them read Adoption is a Family Affair. They'll feel like they've sat down with a close friend to have a coffee-klatsch about adoption. This book's conversational tone and wealth of information will turn them into adoption experts (and supporters!) in no time."

Adopting: Sound Choices, Strong Families
by Patricia I. Johnston, published January 2008
"As I finished reading Pat Johnston's new book Adopting Sound Choices, Strong Families I felt as if I had just found "Adoptipedia". Johnston leaves no rock unturned as she takes readers through a journey which begins long before people even know or realize that they may have an adoption journey. She examines every single issue mentioned in adoption literature; I found each page filled with valuable information for those individuals considering adoption. This well integrated piece of work is a "must read" for anyone thinking about adopting; it should be mandatory reading for all professionals who work within the adoption arena. Johnston illuminates issues well beyond those typically addressed in pre-adoptive training. This will become a handbook for those exploring adoption and for those working with them. I highly recommend this book!"--(Gregory C. Keck ,Ph.D., Founder/Director of the Attachment & Bonding Center of Ohio, Co-author of Adopting the Hurt Child and Parenting the Hurt Child)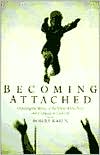 Becoming Attached: Psychology's Effort to Understand The Power of First Relationships and How They Impact Our Capacity to Love
by Robert Karen, published April 1997
"In Becoming Attached, Robert Karen offers fresh insight into some of the most fundamental issues of emotional life. He explores such questions as: What do children need to feel that the world is a positive place and that they have value? What are the risks of day care for children under one year of age, and what can parents do to manage those risks? What experiences in infancy will enable a person to develop healthy relationships as an adult? Becoming Attached is not just a voyage of discovery in child emotional development and its pertinence to adult life but a voyage of personal discovery as well, for it is impossible to read this book without reflecting on one's own life as a child, a parent, and an intimate partner in love or marriage."

↑ Top of page ↓ Bottom of page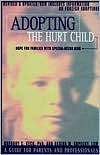 Adopting the Hurt Child; Hope for Families with Special-Needs Kids
by Gregory C. Keck and Regina M. Kupecky, published April 1998
"Few families wishing to adopt are able to bring home a happy and healthy infant, for most adoptions today involve emotionally wounded, older children. Presenting a comprehensive picture of all aspects of adoption, this is a beneficial guide that integrates social and psychological issues with other issues that interrupt adopted children's normal development. This updated edition includes information on foreign adoption."

Parenting the Hurt Child: Helping Adoptive Families Heal and Grow
by Gregory C. Keck et.al, published April 2002
"When a child is adopted, he can arrive with hurts from the past - pain that stunts his emotional growth, and your family's life, too. At some point your parenting dreams can shatter, and raising a hurt child becomes more like a burden than a blessing. But don't give up. With time, patience, informed parenting, and appropriate therapy, your adopted child can heal, grow, and develop beyond what seems possible now. From insights gathered through years of working with adopted kids who have experienced early trauma, Gregory C. Keck and Regina M. Kupecky explain how to manage a hurting child with loving wisdom and resolve, and how to preserve your stability while untangling their thorny hearts."

Telling the Truth to Your Adopted or Foster Child
by Betsey Keefer, et. al., published July 2000
" 'Do I have to tell my adopted child the truth?' This is a question that faces every adoptive parent. Filling a much-needed gap in the adoption literature regarding communication with adopted children, Telling the Truth to Your Adopted-Foster Child provides parents with the important knowledge of why adopted children need to know the truth about their past. The authors offer practical guidelines and tools that parents can use in communicating with their children the circumstances of their past. This book presents the developmental stages of how children understand adoption and what needs to be said to a child age appropriately. The authors suggest how to share with children the painful and difficult issues regarding their circumstances, birth family and background. The goal is to provide a gateway into life as emotionally and psychologically healthy adults, with solid foundations for identity and self-esteem."

Communicating with the Adopted Child
by Miriam Komar, published April 2000
"Communicating With the Adopted Child focuses on the importance of family conversation and the power of speech in providing both information and emotional support to the adopted child. Using examples drawn from interviews, case studies, and extensive correspondence, as well as from leading studies in the fields of psychology, sociology, and social work, Dr. Komar gives a reassuring perspective on some of the most troubling issues of adoption. This is specific, proven advice on how to overcome common obstacles to parent-child communication."

↑ Top of page ↓ Bottom of page


A Love Like No Other
by Pam Kruger and Jill Smolowe (editors), published November 2005
"From various perspectives, 20 adoptive parents offer evocative, sometimes provocative, personal essays that have the liveliness and immediacy of prose fiction. Biological parents are variously imagined, sought and found in the opening section, "Reflections on Birth Parents." In "Encounters with the Unexpected," adoptive parents confront "postadoption depression," family wariness, ethnic identity issues and disabling psychological problems. Each family (single parent, gay parent, divorced parents, intra-family adoption, blended family) is adoptive in its unique way, persuasively confirmed in "Variations on Family." While the early sections focus on the parent-child relationship, the concluding "Personal Transformations" leans toward the child-to-parent effect; as one writer puts it, "I knew a child would rearrange my home life, but upend my career and worldview? Those two items weren't even on my list." Any parent will find commonality here, but the collection will especially engage adoptive parents in conversation and controversy with people who share their dilemmas and delights. Diverse as this collection is, it's worth noting that the essayists are professional writers (they include Jacquelyn Mitchard, Emily Prager and Dan Savage), most of the children are preadolescent and 11 of the adoptions are transnational (five of them from China). Agent, Gail Hochman. (Nov.) Copyright 2005 Reed Business Information." Pam adopted her daughter from Kazakhstan in 2001.

|

Adoption L-O
|
---
|
Page last updated on 31 August 2011.
Copyright © 2000-2016 Kazakh Adoptive Families. All rights reserved. Privacy Policy