For Parents About Adoption
Have you read any of the books listed here? Would you like to let others know what you thought of it? If so, please fill out a Book Review
and I will add your comments. A
next to a book indicates that it has been added in the last month.
Alphabetically by author, L-O
Connecting with Kids through Stories: Using Narratives to Facilitate Attachment in Adopted Children
by Denise B. Lacher, Todd Nichols and Joanne C. May, published February 2005
"Connecting with Kids through Stories is an accessible guide to Family Attachment Narrative Therapy for the parents of adopted or fostered children, and for the professionals who work with them." Providing a thorough theoretical grounding, and detailed information on therapeutic techniques and how to assess progress, this book shows parents how to create their own therapeutic stories to promote increased attachment and improved behavior in their child. The authors describe how different kinds of narratives can help with specific difficulties and illustrate their techniques with the story of a fictional family who develop their own narratives to help their adopted child heal."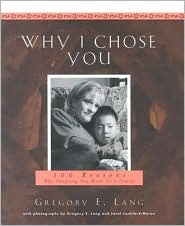 Why I Chose You: 100 Reasons Why Adopting You Made Us a Family
by Gregory E. Lang, published August 2004
"Gregory E. Lang has compiled dozens of reasons for adoption as well as capturing the adoration, affection, and mutual gratification that is received from both the parent and child. For there is no greater place than a home filled with love, and no greater gift than the smile of a happy and contented child who knows he or she is loved."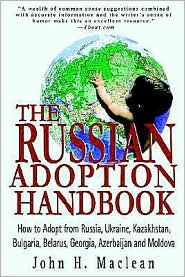 The Russian Adoption Handbook
by John MacLean, published January 2004
How to adopt from Russia, Ukraine, Kazakhstan, Bulgaria, Belarus, Georgia, Azerbaijan and Moldova. "Russian Adoption Handbook book covers the entire international adoption process from Russia, Ukraine and Kazakhstan. Covered are INS forms, home study and foreign requirements. You will also learn about medical issues, travel requirements, and post adoption matters." I have not seen this book so I don't know how well he covers Kazakhstan, but it is highly regarded among those adopting from Russia. I would not rely on it for current process information, but rather as an overall guideline to adoption.
Review by a parent: "I would definitely recommend this book. It is full of information that is both infomative and necessary for the entire adoption process. The book is also interesting and an easy read!"

Adoption Parenting: Creating a Toolbox, Building Connections
edited by Jean MacLeod and Sheena Macrae, published July 2006
"Over 100 contributors have helped EMK Press to weave a stunning tapestry of advice specifically for adoptive parents. Parenting adopted children requires parenting with an extra layer and this book helps you to understand where that extra layer falls. This 520 page book is a wealth of information for the newly arrived home family and the experienced family as well. This is a book you won't read all at once, but come back to again and again as your child's awareness of who they are develops and your awareness of how to help them increases. Our adopted children come to us from loss: loss of a birthfamily, culture, and language. There are helpful things that we can do to address these issues, and Adoption Parenting helps you to create an awareness to do just that. We also look at stumbling blocks to good parenting, and standard parenting practices that aren't right for adopted children. We look at the core issues all members of the adoption triad face, and look at how that affects standard parenting challenges like sleeping through the night, discipline, and attachment. We cover specific challenges families have faced: Sleep issues, FASD, Trauma and PTSD, Sensory Integration, Speech and Language delays, and at ways to effectively parent a post-institutionalized child. "

↑ Top of page ↓ Bottom of page


Our Own: Adopting and Parenting the Older Child
by Trish Maskew, published September 2003
"In this thorough guide to the adoption of older children, Maskew--a mother of three, including two boys adopted at ages five and nine--argues that there's a big gap between the fantasy of adoption and its reality. While it was once thought that lots of love and a good home would take care of the problems inherent in adopting a child, families and social workers now know that that is not true. Raising adopted children is not the same as raising birthchildren, as Maskew knows, and she offers ideas and advice that are both practical and extensive. She deals with racism, problems around the holidays, disabled and special-needs children, and international adoptees. In a society that still views adoption as second best to birthing a child, Maskew sees commitment and support as the keys; love will come along. An excellent chapter on medical diagnosis and a full bibliography that includes books, periodicals, web sites, clinics, and published reports round out this title."
Parent review: "It was wonderful, and I highly recommend it, even if you are thinking of a younger child."

Parenting Your Adopted Older Child
by Brenda Mccreight, published June 2002
"This comprehensive guide by an adoption expert provides specific parenting strategies for the growing number of people who adopt children over two years old. Parents learn to identify their child's needs, meet such challenges as aggressive behavior and attention deficit disorder, and create a sense of belonging."

Raising Adopted Children: Practical, Reassuring Advice for Every Adoptive Parent
by Lois Ruskai Melina, published June 1998
"In this completely revised and updated edition of Raising Adopted Children, Lois Melina, editor of Adopted Children newsletter and the mother of two children by adoption, draws on the latest research in psychology,sociology, and medicine to guide parents through all stages of their child's development. Melina addresses the pressing adoption issues of today, such as open adoption, international adoption, and transracial adoption, and answers parents' most frequently asked questions."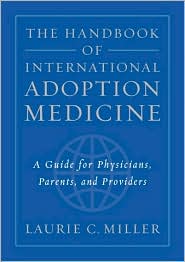 Handbook of International Adoption Medicine: A Guide for Physicians, Parents, and Providers
by Laurie C. Miller, published August 2004
"Since 1989, American families have adopted more than 167,000 children from other countries. Many of these children have lived in crowded conditions, sometimes with poor standards of hygiene, inadequate nutrition, and limited numbers of caregivers. Some suffer from endemic infectious diseases. Upon arrival, practitioners often fail to recognize the unique concerns of this group. This text provides an overview of the specialized medical and developmental issues that affect internationally adopted children, offering guidelines to the physicians caring for these children and their families before, during, and after adoption. The reader will learn how to advise families prior to an international adoption, how to perform an effective initial screening assessment of the newly arrived child, and how to recognize and manage developmental and other more long-term problems as they emerge." Dr. Miller is an international adoption specialist at the Floating Hospital for Children in the Tufts-New England Medical Center.

Life Books: Creating a Treasure for the Adopted Child
by Beth O'Malley, published September 2001
"Change your child's future by giving them their past. An adoption lifebook is a pro-active and unique parenting tool. What is a lifebook? It is a record of the child's life from birth. It uses words, photos, and the child's artwork to chronicle the critical events in a child's life in child friendly terms. Discover the secrets to making your child's lifebook. A step-by-step guide suitable for international or domestic adoptions. Written by an adoptee."

|

Adoption P-Z
|
---
|
Page last updated on 31 August 2011.
Copyright © 2000-2016 Kazakh Adoptive Families. All rights reserved. Privacy Policy