For Parents About Adoption
Have you read any of the books listed here? Would you like to let others know what you thought of it? If so, please fill out a Book Review
and I will add your comments. A
next to a book indicates that it has been added in the last month.
Alphabetically by author, P-Z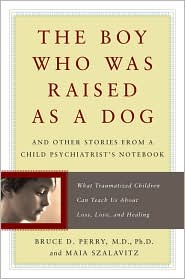 The Boy Who Was Raised as a Dog
and other stories from a child psychiatrist's notebook, by Bruce D. Perry and Maia Szalwitz
"A world-renowned child psychiatrist takes us inside his pioneering work with trauma victims to offer a groundbreaking new perspective on how stress and violence affect children's brains-and how they can be helped to heal. Child psychiatrist Bruce Perry has treated children faced with unimaginable horror: genocide survivors, witnesses, children raised in closets and cages, and victims of family violence. Here he tells their stories of trauma and transformation."

International Adoption Travel Journal
by Mary Petertyl, published January 1998
"International adoption travel is a time of excitement, wonder and unpredictable experiences. You know that your record of this trip will one day become a cherished link to your child's heritage. But as many parents who have been there know, chronicling your trip in a traditional blank notebook becomes next to impossible--particularly once your child arrives. The new International Adoption Travel Journal was designed with your special trip in mind. With six separate sections organized in meaningful categories, and a fill-in-the blank format, parents find this unique journal an invaluable keepsake to record their trip of a lifetime."

The Connected Child
by Karyn B. Purvis and David R. Cross, published February 2007
"Addresses the unique challenges for adoptive parents of foreign-born children, a community that has grown 300 percent since 1992. The authors are experts in the adoptive family community: David Cross is the director of the Developmental Research Lab, and Cross and Karyn Purvis are cofounders of the Adoption Project and the TCU (Texas Christian University) Institute of Child Development."

Hello, Aibek!: A Journey of International Adoption
by Kevin Quirk, published June 2003
"International adoption is not for the faint of heart. That's the message Kevin and Krista repeat throughout their adoption journey to Kazakhstan, a country that most people can't pronounce or locate on an atlas. It takes an unwavering commitment to follow this trail of indescribable joys equaled by gnawing obstacles." Although, as the author admits, everyone's experience is different, there were definitely parts I recognized from my own adoption. I think that it is wonderful to finally have a book based on an adoption from Kazakhstan and interesting to have it be written by an adoptive dad.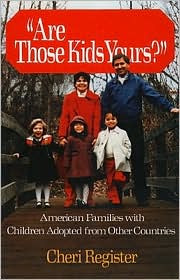 Are Those Kids Yours?: American Families with Children Adopted from Other Countries
by Cheri Register, published November 1990
"Cherie Register draws on her experience as the mother of two Korean-born daughters and interviews with adoptive families to illustrate the special challenges multicultural families face."

Two Little Girls: A Memoir of Adoption
by Teresa Reid, published April 2007
"In Chicago, Theresa Reid and her husband had lucrative careers and a beautiful home. What was missing from their lives was children. But they knew in Eastern Europe there were children who were missing parents- and they set out to find their family. There was self-doubt and gut-wrenching fear, mountains of paperwork and nerve-racking interviews, agonizing choices and false starts. There was the painful awareness of thousands of children languishing in poorly- funded orphanages, waiting for someone to embrace them and bring them home. And there were Byzantine bureaucracies and poverty-stricken conditions in the former Soviet Republic-where, beyond the borders they crossed and the obstacles they navigated, two little girls waited. This is Theresa Reid's account of how Natalie and Lana came to be her daughters-a journey that travels not only to Moscow and Kiev but into the deepest parts of a mother's heart. She addresses the issues that arise for many an adoptive parent-including the guilt over taking children away from their roots, the unknowable mysteries of her daughters' earliest childhoods, and the slow, stumbling steps toward trust and tenderness that played out between them. For any parent, adoptive or not, this book offers not only a compelling story but valuable insights into the transformative power of loving a child."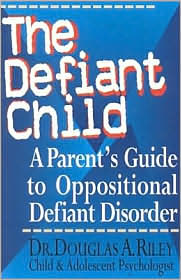 The Defiant Child: A Parent's Guide to Oppositional Defiant Disorder
by Douglas Riley, published August 1997
"The American Psychiatric Association estimates that sixteen percent of children in the United States may have oppositional defiant disorder. These kids relentlessly push the boundaries set for them by authority figures. By exploring the mindset of O.D.D. children and explaining the way they operate, Dr. Douglas Riley teaches parents how to recognize the signs and modify the behavior of their O.D.D. child."

↑ Top of page ↓ Bottom of page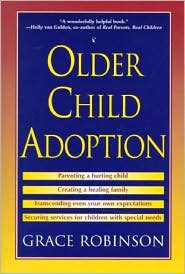 Older Child Adoption
by Grace Robinson, published March 1998
"This book is a very helpful tool for those who are planning to adopt an older child. The interviews and stories present a realistic picture of the challenges and opportunities that adoptive parents of older children must face."
From an adoptive dad: "This is a good book. My only complaint is the lack in the # of cases she actually uses, but you do still get a wide range of special needs and behaviors as well as different parenting styles and tactics to cope with them. It is a helpful book to read. I do suggest it. Its good enough to make it to my reading list on my single parenting and adopting website!"

How to Raise an Adopted Child: A Guide to Help Your Child Flourish from Infancy through Adolescence
by Judith Schaffer, et. al., published January 1991
"Co-founders and co-directors of the Manhattan-based Center for Adoptive Families, the authors have compiled a 'Dr. Spock' for adoptive parents, a guide that discusses the different developmental stages of children from year one through late adolescence, with careful attention to the complications adopted children often experience. Positive and easy to read, this how-to manual manages to be comprehensive, offering special chapters on transracial and single-parent adoptions and adoptions of older and foreign-born children. There are end-of-chapter questions and answers and a list of resources keyed to parents of children with disabilities. Recommended for all public library collections.-- Janice Arenofsky, formerly with Arizona State Lib., Phoenix."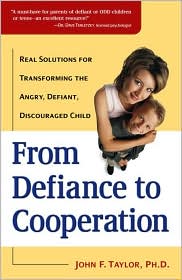 From Defiance To Cooperation
by John Taylor, published April 2001
"How do you deal with a difficult and defiant child or teenager? What can you do if your child has been diagnosed with oppositional defiant disorder (ODD) or is resentful and constantly in trouble at school? Are there constructive ways to channel such oppositional energy and determination? Inside, you'll find new hope and hundreds of specific, sensible, and easy-to-implement suggestions for improving life with a rebellious and argumentative child. Parents and teachers - anyone who deals with difficult children, teens, or young adults - will also learn how to tap the potential of these natural-born leaders by discovering how to: Understand why an oppositional attitude exists; open up new, safer avenues for children to express needs and wants; enhance communication, avoid common mistakes, and reduce undesirable behavior; and teach a child conscience-based self-control."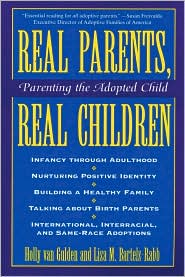 Real Parents, Real Children: Parenting the Adopted Child
by Holly Van Gulden and Lisa M. Bartels-Rabb, published October 1995
"A leading authority offers practical advice for parents on how to talk with their children about adoption and how to help them through the rougher times of growing up adopted."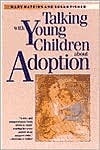 Talking with Young Children about Adoption
by Mary Watkins, published January 1995
"Current wisdom holds that adoptive parents should talk with their child about adoption as early as possible. But no guidelines exist to prepare parents for the various ways their children might respond when these conversations take place. In this wise and sympathetic book, a clinical psychologist and a psychiatrist, both adoptive mothers, discuss how young children make sense of the fact that they are adopted, how it might appear in their play, and what worries they and their parents may have. Accounts by twenty adoptive parents of conversations about adoption with their children, from ages two to ten, graphically convey what the process of sharing about adoption is like."

|

Parenting
|
---
|
Page last updated on 31 August 2011.
Copyright © 2000-2016 Kazakh Adoptive Families. All rights reserved. Privacy Policy