Books about Central Asia
Have you read any of the books listed here? Would you like to let others know what you thought of it? If so, please fill out a Book Review
and I will add your comments. A
next to a book indicates that it has been added in the last month.
Alphabetically by author, A-D
Culture and Customs of the Central Asian Republics
by Rafis Abazov, published December 2006
"The Central Asian Republics of Kazakhstan, Kyrgyzstan, Turkmenistan, Tajikistan, and Uzbekistan won their independence from the Soviet Union in 1991. Now they are emerging from the shadow of dominance and are subjects of intense interest from the West. The modern culture and customs of the various peoples in these geopolitical hotspots, straddling the far reaches of Europe into Asia, are revealed to a general audience for the first time. This will be the must-have volume for a broad, authoritative overview of these traditional civilizations as they cope with globalization."

Palgrave Concise Historical Atlas of Central Asia
by Rafis Abazov, published February 2008
"From the Silk Road to the Great Game, Central Asia has long been a region of great strategic, political, and economic importance. Currently the home of large oil reserves, Islamic terrorists, and new democracies, Central Asia is of growing visibility to Americans. In this atlas, Rafis Abazov provides 50 two-color maps, each accompanied by a facing page of explanatory text, that graphically illuminate the region's history tracing back to the 8th-7th centuries B.C. From the spread of Islam to the invasion of the Mongols, the area has been at the crossroads of some of the world's most important developments, all succinctly explained in this book. Students will regard it as a useful reference, and general readers will value it for its clarity and wealth of information." "Every diplomat, scholar or traveler who knows the historical geography of Central Asia, will be miles ahead in understanding the region than those who do. The Palgrave Concisee Historical Atlas of Central Asia is an excellent read that provides a wealth of knowledge for western vistors, helping them to learn about the complexity of Central Asian history, geopolitics and recent political developments."--Grigoriy Evseev, President, Central Asian Geographic Society, Kazakhstan.

The Day Lasts More Than a Hundred Years
by Chingiz Aitmatov, John French translator, reprint November 1990 (originally published in 1983)
"This book describes ordinary working kazakh people in Sarozek, Kazakhstan. Aitmatov masterfully connects their life with the political situations as well as Kazakh traditions. Aitmatov describes the humanity and dignity of ordinary people who are unaware of what is going on at the nearby space station."

Central Asia: 130 Years of Russian Dominance, a Historical Overview
by Edward A. Allworth, published January 1995
"For centuries, Central Asia has been a leading civilization, an Islamic heartland, and a geographical link between West and East. After a long traditional history, it is now in a state of change. With the breakup of the Soviet Union in 1991, five newborn Central Asian states have emerged in place of the former Soviet Central Asia and Afghanistan. Central Asia provides the most comprehensive survey of the history of the impact of Russian rule upon the political, economic, social, intellectual, and cultural life of this diverse region. Together, these essays convey a sense of the region?s community as well as the divisive policies that have affected it for so long. Now in its third edition (it was first published in 1967 and revised in 1989), this new edition of Central Asia has been updated to include a new preface, a revised and updated bibliography, and a final chapter that brings the book up to 1994 in considering the crucial problems that stem from a deprivation of sovereign, indigenous leadership over the past 130 years. This volume provides a broad and essential background for understanding what has led up to the late twentieth-century configuration of Central Asia."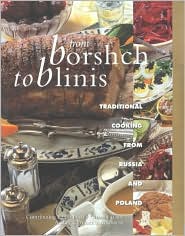 From Borsch to Blinis
by Catherine Atkinson, published April 2000
"All the classic Eastern European dishes are featured, such as Borshch, Chicken Kiev, Beef Stroganov, Pirozhkis and Blinis." Features color pictures.

Shamanic Worlds
by Marjorie Mandelstam Balzer, published January 1997
"The ancient heartland of shamanism is no longer forbidden territory - to travelers or to the spirits. But the spirits never left the vastnesses of Siberia and Central Asia, as these writings reveal. Russian and native experts, and an American cultural anthropologist who has done fieldwork in the region, introduce us to shamans as the poets, therapists, healers, and even leaders of their communities. Among the special features of this collection are remarkable transcriptions of shamanic exhortations and a pathbreaking study of shamanic tales and rituals."

↑ Top of page ↓ Bottom of page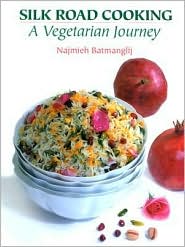 Silk Road Cooking: A Vegetarian Journey
by Najmieh K. Batmanglik, published June 2002
"Iranian-born Batmanglij, author of several other books on Persian food, has spent a good part of the last 25 years traveling the ancient "Silk Road," the spice and trade route from China through the Middle East to Italy. Because of economic realities, the fare native to those countries has been vegetable-based, so Batmanglij concentrates on that here, though her book will certainly appeal to nonvegetarians as well. She presents diverse and wide-ranging recipes, both familiar and exotic, from Alexandrian Spicy Fava Bean Spread to Afghan Garlic Chive Ravioli, among many others, set against a background of culinary and cultural history. More than 250 color photographs, including some great portraits of people whom Batmanglij met in her travels, furnish additional context. Strongly recommended." My local paper featured this cookbook one day and recommended it as well.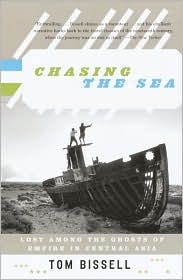 Chasing the Sea: Lost Among the Ghosts of Empire in Central Asia
by Tom Bissell, published October 2004
"Bissell is a born raconteur, but he is also a prodigious scholar, uncoiling the tangled history, ancient and modern, of this crossroads society in bright, taut cords...And he is such an ambidextrous writer that his mini-treatise on Anglo-Russian statecraft is as readable as the dish on his college sweetheart. Bissell may have been a flop as a Peace Corps volunteer...But his failure has still provided some benefit to humanity - at least to the part of humanity that enjoys a great read. -Steve Hendrix, Washington Post."

Ancient Horsemen of Siberia
by Janet Buell, published April 1998, young adult
"In this title, Buell describes Natalya Polos'mak's discovery of a 2500-year-old kurgan, or burial mound, on the Ukok Plateau in Siberia. In that kurgan, Polos'mak found the frozen mummy of an ancient Pazyryk woman. The book relates the ways in which the mummy and the items found in her burial mound have increased our knowledge of the Pazyryk people, an ancient nomadic tribe. Because the Pazyryks were among the world's first horse riders, the significance of the horses found in the kurgan is also discussed."

Tales Told in Tents
by Sally Pomme Clayton, published February 2005, ages 9-12
"Why are some carpets magic? What is a wish-tree? And where can the fountain of eternal life be found? The answers to these and many other intriguing questions can be found in Sally Pomme Clayton's enchanted storytelling journey through Central Asia. On her travels in the region, Sally has accumulated a wealth of folklore and knowledge of nomadic cultures. The 12 exotic retellings of stories related to the author in storytelling tents are linked by a mix of memories spiced with homespun wisdom, as she retraces her steps through Turkmenistan, Uzbekistan, Kazakhstan, Kyrgyzstan, Tadjikistan and Afghanistan. Sophie Herxheimer's brilliantly-patterned artwork, together with a glossary and brief notes, combine to reveal the richness of these little-known, faraway lands of Central Asia."

↑ Top of page ↓ Bottom of page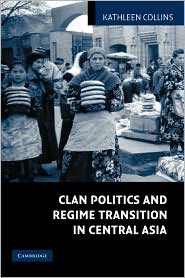 The Logic of Clan Politics in Central Asia
by Kathleen Collins, published February 2006
"This book is a study of the role of clan networks in Central Asia from the early twentieth century through 2004. Exploring the social, economic, and historical roots of clans, and their political role and political transformation in the Soviet and post-Soviet periods, it argues that clans are informal political actors that are critical to understanding politics in this region. The book demonstrates that the Soviet system was far less successful in transforming and controlling Central Asian society, and in its policy of eradicating clan identities, than has often been assumed. In order to understand Central Asian politics and their economies today, scholars and policy makers must take into account the powerful role of these informal groups, how they adapt and change over time, and how they may constrain or undermine democratization in this strategic region."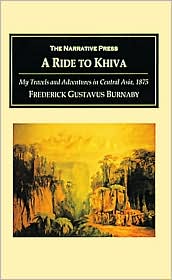 A Ride to Khiva: My Travels and Adventures in Central Asia, 1875
by Frederick Gustavas Burnaby, published May 2003
"In the winter of 1875, a young British officer set out across Central Asia on a strictly unofficial mission to investigate the latest secret Russian moves in the Great Game. His goal was the mysterious caravan city of Khiva, closed to all European travellers by the Russians following their seizure of it two years earlier. His aim was to discover whether, as many British strategists feared, this remote and dangerous oasis was about to be used as a springboard for an invasion of India. Unknown to his superiors, who would have forbidden the venture, Captain Frederick Gustavus Burnaby rode for over a thousand miles across steppe and desert, struggling through blizzards and snowdrifts, to reach forbidden Khiva. Ordered home by an alarmed government, Burnaby immediately sat down and wrote this best-selling account of his adventures, which was to become a Great Game classic."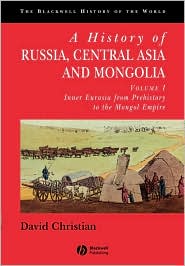 A History of Russia, Central Asia and Mongolia: Volume I:
Inner Eurasia from Prehistory to the Mongol Empire
by David Christian, published January 1999
"This history of Russia, Central Asia and Mongolia spans from the time of the first inhabitants of the region up to the time of the Mongol Empire in the 13th century. It presents Inner Eurasia as a coherent region with all underlying unity in geography and history despite its cultural and ecological variety. This volume, the first of two surveying this region, charts developments from the Old Stone Age, through the emergence of the earliest farming societies of Central Asia, and the pastoral nomadic societies of peoples such as the Scythians, the Huns, and the Turks. It also describes the emergence of a powerful agrarian state in the lands of Rus, where eventually the modern Russian state would appear. The book describes the political and economic history of these societies as well as their distinctive ways of life. It shows how their evolution reflects the geography and ecology of Inner Eurasia. Together with volume II, which covers the period to the present, this set is the most thorough and up-to-date study of this fascinating and much misunderstood region."

Islam, Oil and Geopolitics: Central Asia after September 11
by Elizabeth Van Vie Davis, published April 2006
"Once an obscure and little-known region, Central Asia has become an important test of America's ability to consistently promote global liberal change, of Russia's true foreign policy agenda, and of China's readiness to translate economic power into political influence. Terrorism, economics, and politics all converge in this strategic region, with important implications for Asia and the world. A set of international contributors focuses on three important issues that are usually and unfortunately analyzed separately Islamic political issues, energy security, and geopolitical maneuvering. This significant and timely volume helps readers understand current events in Central Asia and how those events affect the rest of the world."

Faculty of Useless Knowledge
by Yury Dombrovsky, published October 1997 (first published in 1978)
"Georgi Zybin is an archaeologist who has the bad luck to supervise an expedition during which an ancient gold diadem is unearthed and stolen by workmen employed on the dig. Zybin, a student of Law and Humanities (the "Faculty of Useless Knowledge") and a curator at the capital city's state museum, is accused of the theft, and also other crimes against the state, and is imprisoned and subjected to a long process of interrogation that widens to include his former lover Polina, his colleague Kornilov (who will betray him), and Father Andrey Kutorga, an exiled priest who is writing a history of the trial and crucifixion of Christ. ...The interrogation procedures are the focus of the story, which occasionally bogs down under the weight of heavy discourse on the nature of justice. Dombrovsky's real gift is for vivid detail that describes the populace, customs, and environs of the Kazakhstan city while celebrating life in a time of fear and death." Not in current publication.

---
|
|
Page last updated on 31 August 2011.
Copyright © 2000-2016 Kazakh Adoptive Families. All rights reserved. Privacy Policy