About Kazakhstan
Have you read any of the books listed here? Would you like to let others know what you thought of it? If so, please fill out a Book Review
and I will add your comments. All of these book links open in a new window
, so that you can continue to browse my bookstore while purchasing the books. Unfortunately, some of these books are no longer in print and may be hard to find. A
next to a book indicates that it has been added in the last month. Books for children about Kazakhstan are included here.
Alphabetically by author, A-G

The Golden Deer of Eurasia: Scythian and Sarmatian Treasures from the Russian Steppes, the Hermitage, Saint Petersburg, and the Archaeological Museum

edited by Joan Aruz, published October 2000
A catalogue for an exhibition
that was at the Metropolitan Museum of Art in NYC. Most of the items were found in Filippovka, Kazakhstan, southwest of Kostanay.

A Generation at Risk: Children in the Central Asian Republics of Kazakstan and Kyrgyzstan

by Armin Bauer, et. al., published March 1998 by Asian Development Bank (out of print)
"This book analyzes the condition of children in Kazakstan and the Kyrgyz Republic. It highlights the legal and cultural determinants of childhood development in the Central Asian Republics, and describes the impact of transition on children and young people, caused by (i) the economic restructuring; (ii) the changes in family systems and lifestyles; (iii) the reforms in the social sectors of education and health, and in social protection; and (iv) the effects of the eroding physical infrastructure on children. The book then analyzes government, NGO, and external support for child development and ends with operational recommendations for a child-sensitive development strategy in Central Asia."
You can also download
each chapter in PDF files.

Women and Gender Relations in Kazakstan: The Social Cost

by Armin Bauer, et.al., published January 1998 by Asian Development Bank (out of print)
"The Asian Development Bank has adopted a policy that emphasizes human resources development and cross-cutting social issues in program and project activities. Encouraging the participation of women in development is one of the Bank's key objectives. The Bank, therefore, in 1996, conducted a study on the impact of transition on women in conjunction with drafting its Country Operational Strategy for Kazakstan and other economic and sector work on children and on the social costs of transition. This report provides the results of the gender study and the implications for the Bank's programming and project activities. As one product, gender-related interventions are proposed for specific sectors within the Bank's assistance to Kazakstan."

Kazakhstan (Cultures of the World Series)

by Pang Guek Cheng, published March 2001, ages 12+
Review written be an adoptive mom: "Excellent Introduction to Kazak Culture. I am in the process of adopting a child from Kazakhstan. This book reads at the level of a 5th grade social studies book. However, it has beautiful pictures of Kazakhstan and its people. It includes just the right amount of information to provide a general overview of the country, it's history and culture. This book will be very beneficial in teaching our child about her origins or for anyone interested in Kazakhstan."

Kazakhstan (Growth and Influence of Islam series)

by Jim Corrigan, Foreign Policy Research Institute, published January 2005, ages 5-12
"These titles look at the importance of Islam in this region. The emphasis that they place on geopolitics, both in the countries' historical development and in their current significance, gives them a cohesive focus and an interest level not usually found in country studies. Although there are individual chapters on the land, history, economy, people, cities, and foreign relations, the growth and influence of Islam are integrated throughout the texts. The writing is lucid and lively; the photographs, relevant and representative of a variety of lifestyles. Kazakhstan is the most impressive, but the others are equally informative. The author of Kyrgyzstan could not have predicted the overthrow of Akayev in spring 2005, but he does alert readers to why the president was losing support. In Azerbaijan, the initial presentation of the three alphabets in which Azeri has been written is a bit confusing, but an explanation in a later chapter is clear. The only quibble with these volumes is the paucity and quality of the maps. In addition, the city names and variations used on the map in Azerbaijan do not match those in the text. Nevertheless, these books are solid sources for reports, geography lessons, and current events.-Elizabeth Talbot, University of Illinois, Champaign Copyright 2005 Reed Business Information."

↑ Top of page ↓ Bottom of page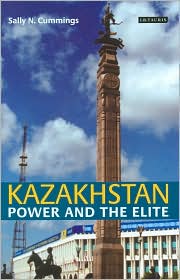 Kazakhstan: Power and the Elite

by Sally N. Cummings, published September 2005.
"Kazakhstan is a major Central Asian state occupying a key geopolitical position in a region of huge interest to the West as well as to its potential superpower neighbors. External vulnerability is compounded by internal instability in a region of intense rivalry and a potential geopolitical flashpoint. This ground-breaking political study is within an historical framework and based not only on original official and academic material but, most importantly, on over 150 interviews with leaders of the national and regional elite."

Post-Soviet Kazakhtan

by Bhavna Dave, published September 2007
"Kazakhstan is emerging as the most dynamic economic and political actor in Central Asia. It is the second largest country of the former Soviet Union, after the Russian Federation, and has rich natural resources, particularly oil, which is being exploited through massive US investment. Kazakhstan has an impressive record of economic growth under the leadership of President Nursultan Nazarbaev, and has ambitions to project itself as a modern, wealthy civic state, with a developed market economy. At the same time, Kazakhstan is one of the most ethnically diverse countries in the region, with very substantial non-Kazakh and non-Muslim minorities. Its political regime has used elements of political clientelism and neo-traditional practices to bolster its rule. Drawing from extensive ethnographic research, interviews, and archival materials this book traces the development of national identity and statehood in Kazakhstan, focusing in particular on the attempts to build a national state. It argues that Russification and Sovietization were not simply 'top-down' processes, that they provide considerable scope for local initiatives, and that Soviet ethnically-based affirmative action policies have had a lasting impact on ethnic elite formation and the rise of a distinct brand of national consciousness."

Soul of Kazakhstan

by Wayne Eastep, published August 2001
"It is a 264 page hard cover book with about 275 photographs. There are seven chapters, each covering a different part of Kazakh culture with photographs and essays; for example, the land, history and artifacts, physical culture, fine and performing arts, etc." It is available through the author's web site (that is where the links above take you). It is not cheap, but it is well worth it for the stunning pictures and insightful commentary.

Kazakhstan: Coming of Age

by Michael Furgus, published March 2004.
"This books presents authoritative coverage of the country's place in the world, bridging West and East: its spectacular landscape and its ecological challenges; its people and their patterns of life; its turbulent history and astonishing heritage of material culture; its governmental structures; contemporary society; and Kazakhstan's highly significant economy and prospects."

Journey into Kazakhstan: The True Face of the Nazarbayev Regime

by Alexandra George, published March 2001
"Since independence in 1991, Kazakhstan, the second largest of the former 15 Soviet Republics, stretching across 3500 kilometers, has been descending into a social and economic abyss. The decline is more tragic because it was the most Westernized of the Soviet Central Asian republics. In "Journey into Kazakhstan" the author travels to different regions - the Aral Sea, the Caspian region, the vast central steppelands, the Semipalatinsk Nuclear Polygon, Karaganda, built by Stalin labour camp prisoners, ravaged industrial towns like Shymkent and Kentau, and collapsing state farms. Through on-the-spot reporting the reader will witness how an entire society is descending rapidly back to the pre-industrial era on account of misgovernance and malfeasance and the collapse of education and social welfare."

Sky Blue

by Alexander M. Grace, published October 1995 (out of print)
A novel set in Kazakhstan about a civil war between the Kazakhs and Russian immigrants, and the UN peace-keeping mission trying to resolve the conflict. It is not the type of book I typically read, but it is interesting to read the descriptions of Almaty and the country.

For information on the Kazakh language, please refer to the Kazakh Language page.
Search Barnes and Noble
or Abebooks
for any book.
|
---
|
|
Page last updated on 21 July 2009.
Copyright © 2000-2016 Kazakh Adoptive Families. All rights reserved. Privacy Policy