About Kazakhstan, Page 3
Have you read any of the books listed here? Would you like to let others know what you thought of it? If so, please fill out a Book Review
and I will add your comments. All of these book links open in a new window
, so that you can continue to browse my bookstore while purchasing the books. Unfortunately, some of these books are no longer in print and may be hard to find. A
next to a book indicates that it has been added in the last month. Books for children about Kazakhstan are included here.
Alphabetically by author, R-Z, none
Apples are from Kazakhstan: The Land That Disappeared

by Christopher Robbins, published April 2008
"Kazakhstan is the size of Western Europe but so little known that few people can find it on a map. It was closed to travel by the Tsars and sealed tight by the Soviets. Stalin dumped entire nations in its empty steppe. Cosmonauts were sent into space from here, nuclear weapons tested, gulags built and millions of Kazakhs murdered. Today, against all the odds, it is an oil- and mineral-rich independent state that has no enemies. In a hilariously offbeat book Christopher Robbins criss-crosses a Wild East full of surreal characters: he finds Eminem by a shrinking Aral Sea, hears the Kazakh John Lennon play in a dusty desert town, joins nomads hunting with eagles, eats sheep's heads and sushi with the President - and visits some of the most beautiful, unspoilt places on earth?" This book was originally published as In Search of Kazakhstan in the UK in May 2007.

Russian Colonization of Central Asia and the Genesis of Kazak National Conscious

by Steven Sabol, published May 2003
"This study concentrates upon the socio-political and nationalist views of three influential representatives of the early 20th century Kazak intelligentsia: Alikhan Bokeilhanov, Akhmet Baitursynov, and Mukhamedzhan Seralin. The resulting discourse on literature, education, and politics shaped the Kazak nationalist movement before 1920. This study draws on the published works of the Kazak intelligentsia, the periodicals Ai qap (1911-1915) and Kazak (1913-1918), and archival records from the Central State Archives of the Republic of Kazakstan."

Modern Clan Politics: The Power of "Blood" in Kazakhstan and Beyond

by Edward Schatz, published December 2004.
"Edward Schatz explores the politics of kin-based clan divisions in the post-Soviet state of Kazakhstan. Drawing from extensive ethnographic and archival research, interviews, and wide-ranging secondary sources, he highlights a politics that poses a two-tiered challenge to current thinking about modernity and Central Asia. First, asking why kinship divisions do not fade from political life with modernization, he shows that the state actually constructs clan relationships by infusing them with practical political and social meaning. By activating the most important quality of clans -their "concealability"- the state is itself responsible for the vibrant politics of these subethnic divisions which has emerged and flourished in post-Soviet Kazakhstan. Subethnic divisions are crucial to understanding how group solidarities and power relations coexist and where they intersect. But, in a second challenge to current thinking, Schatz argues that clan politics should not be understood simply as competition among primordial groups. Rather, the meanings attributed to clan relationshipsboth the public stigmas and the publicly proclaimed pride in clansare part and parcel of this contest. Drawing parallels with relevant cases from the Middle East, East and North Africa, and other parts of the former USSR, Schatz concludes that a more appropriate policy may be achieved by making clans a legitimate part of political and social life, rendering them less powerful or corrupt by increasing their transparency."

Kazakhstan: Nomadic Routes from Caspian to Altai
by Dagmar Schreiber, published February 2008
"A country larger than Western Europe, Kazakhstan's vast expanse encompasses the Great Steppe, across which Genghis Khan's Mongol hordes galloped; the heights of the Tien Shan in the south, through whose foothills Silk Road travelers journeyed; the exquisite lakes and valleys of the Altai mountains in the northeast, and in the far west the archeologically rich desert coast of the Caspian Sea. With independence and the discovery of oil has come huge change, yet Kazakhstan remained one of the least known of Asian countries until the Borat movie took the world by storm in 2006. Now, this land of rich history, welcoming people and whirling bazaars shares its wonders with a curious world. The first dedicated English language guide to Kazakhstan?a huge and diverse country: The "Borat" phenomenon and its double-edged effect; Baikonur, Genghis Khan, Tamerlane and the Silk Road; The future of Kazakhstan's energy resources; Investment potential for businessmen; Kazakhstan's archeological wealth; Architecture from Astana to Almaty to Aktau; Holidays by the Caspian Sea; Superb photography from the grandeur of the Tien Shan and Altai mountains across the Great Steppe to the Caspian Sea; 126 color photos and 9 maps & plans." Part of the Odyssey Illustrated Guides Series.

Silent Steppe: The Story of a Kazakh Nomad under Stalin

by Mukhamet Shayakhmetov, translated by Jan Butler into English in January 2006
"The Silent Steppe is an enthralling story of a family living through one of the most traumatic periods of Soviet history, as seen through the eyes of a young boy growing up in a family of Kazakh nomads. It encompasses the horrors of political persecution and famine in the 1930s, and culminates in the author?s first hand account of the Battle of Stalingrad and his long trek home through freezing winter conditions after being wounded and discharged from the Red Army."

Folksongs from the Ends of the Steppe
by Janos Sipos, et. al., published November 2001.

↑ Top of page ↓ Bottom of page


Contemporary Kazaks: Cultural and Social Perspectives

by Ingvar Svanberg, published October 1999 (out of print)
"The articles in this book examine the lives of rural and urban Kazaks. Svanberg (East European studies, Uppsala U., Sweden) and several counterparts in anthropology, ethnography, and history discuss the various ways the Kazak way of life has changed since independence. Essays include a review of contemporary Kazakstan and the Kazak people, a discussion of the role of feasts and gift exchange among rural Kazaks, and an analysis of an ethnic enclave of Kazaks in Western Mongolia that has maintained a more traditional way of life than their counterparts in Kazakstan. Annotation c. Book News, Inc., Portland, OR (booknews.com)"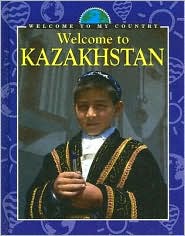 Welcome to Kazakhstan

by Alan Tay, published in July 2005, ages 7-9
Part of the Welcome to My Country series. This book is from the same publisher as Countries of the World: Kazakhstan and contains some of the pictures and information as that book in a larger font. Nice book for this age group.

Kazakhstan in Pictures

by Bella Waters, published January 2007, ages 10-12
Covers the land, history and government, and the people. It is part of Lerner Publishing Group's Visual Geography Series
, where you can find pictures and maps to download for a report, links to other sources and lesson plans. This site even gives tips on writing a report and a bibliography, and a sample outline.

Rethinking Kazakh and Central Asian Nationhood: A Challenge to Prevailing Western Views

by R. Charles Weller, published September 2007
"After summarizing the five main views of nationhood, including the central debate between 'naturalists-perennialists' and 'Western modernists', a critique is offered of Western modernist writers treating the Kazakh and Central Asian nations. These writers insist on applying the cardinal Western doctrine of 'the separation of ethnicity and state' in the Central Asian context in an effort to conform the post-Soviet Central Asian nations to Western norms of multiethnic 'democratic' nationhood. To achieve this, they offer historiographical reinterpretations based in late 20th century Western modernist theories which themselves still echo Western eurocentric views of 'historyless, cultureless peoples'. They attribute the rise of modern ethnicity and statehood in Central Asia to Tsarist and/or Soviet policy. Modern Central Asian ethnic identities as well as the nation-states associated with them are, in their view, artificial (i.e. 'imagined' or 'invented') constructs, political fabrications "created" via Russian "ethno-engineering" and Russian-trained 'elite' nationalists who inculcated in the masses an entirely 'new' and 'modern' idea of ethnonational identity having little or no roots in their own past. By taking this approach, they allegedly demonstrate that today's nation-states in Central Asia have no true or historic relation to the ethnic nations whose names they bear and that those ethnic identities themselves in their current forms are 'inherently problematic', inconsistent and highly unstable, largely divorced from their pre-colonial histories. The Central Asians are conveniently (for Western modernists) left with no rightful historical claim as 'ethnic nations' to their own modern 'political nations'. These views continue to profoundly impact international and ethnonational human rights in the modern global age, including rights of national language, culture and history in Central Asia. As a challenge to these prevailing Western views, the author offers a perspective on Central Asian ethnonational identity which affirms its 'complex unity' and depth of historical rootedness, recognizing the long-standing intimate connection between the ethnosocial, ethnocultural, ethnolinguistic, ethnoreligious and ethnopolitical dimensions of nationhood in the Central Asian tradition. From this unique, non-Western historical and contextual base, a more indigenous, integral form of 'Central Asian democratic nationhood' is sought which strives to achieve genuine justice and equality for all ethnonational peoples involved. The author's experience and insight is founded upon eight years of living and working in Kazakhstan, including a Ph.D. in cultural theory and history from Kazakh National University working entirely in Kazakh under the direction of Kazakh scholars. He draws significantly upon this base of Kazakh scholarship as a central part of the 'challenge to prevailing Western views' regarding Central Asian nationhood. Read the 'Preface' from the book on the Asia Research Association (publisher) website
."

↑ Top of page ↓ Bottom of page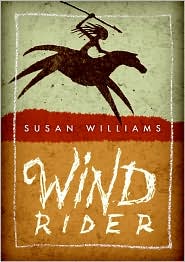 Wind Rider

by Susan Williams, published October 2006, young adult
"Gr 5-8-In prehistoric Western Asia, horses are seen as a source of food and nothing else. However, Fern, who has always had an affinity for animals, is about to change that perception. When she discovers a young mare caught in a bog, she figures out how to rescue and befriend her, and eventually how to ride her. Slowly, she convinces her tribe how invaluable horses could be as their companions and helpers rather than as mere prey. Fern gains the support of her grandmother, her teasing-but-loving twin brother, and her strong, warrior father. She and the horse become objects of fascination but also somewhat of fear in the tribe. In the meantime, a suitor, Badger, is determined to have her as his wife. He looks like a great catch but is actually a bully, further complicating her life. She finds love with an outcast from another tribe who has great healing powers and a kind heart. The story line and characters are fairly predictable. Only Fern seems multifaceted; Badger is mean, and grandmother is wise, but otherwise their characters are undeveloped. Still, a tale about the first taming of a horse may interest lovers of these animals, and Fern's human dilemmas along the way may keep them reading.-Carol Schene, formerly at Taunton Public Schools, MA Copyright 2006 Reed Business Information." This book reminds me alot of the series by Jean Auel (Earth's Children: Clan of the Cave Bear). Although Kazakhstan is not mentioned in the book, the author does discuss it in her postscript.

Kazakhstan, Then and Now

Geography Department, Lerner Publications Company, published July 1993 (out of print)
Children's book which discusses the topography, location, ethnic mixture, history and current political climate. A little skimpy on information but good pictures.

Kazakh Traditions and Ways, published by Almaty Dyke-Press in 2002, ISBN 9965-441-65-0, available from Eastview Publications
for $25.
Kazakhstan: A "Spy Guide"
published by International Business Publications, September 2005
"Strategic and practical information on government, national security, army, foreign and domestic politics, conflicts, relations with the US, international activity, economy, technology, mineral resources, culture, traditions, govt" "Geography, history, people, language, culture, traditions, economy, government, politics, constitution, places to visit, info for travelers."

Kazakhstan: Diplomatic Hanbook (185x247)
by U.S.A. Global Investment Center Staff, published November 2005
"Ultimate guide for conducting investment, export-import activity in the country.Strategic and business info, contacts, regulations and more."

For information on the Kazakh language, please refer to the Kazakh Language page.
Search Barnes and Noble
or Abebooks
for any book.
|
---
|
|
Page last updated on 21 July 2009.
Copyright © 2000-2016 Kazakh Adoptive Families. All rights reserved. Privacy Policy