Traveling in Kazakhstan
Have you read any of the books listed here? Would you like to let others know what you thought of it? If so, please fill out a Book Review
and I will add your comments. All of these book links open in a new window
, so that you can continue to browse my bookstore while purchasing the books. A
next to a book indicates that it has been added in the last month.
Bradt Guide: Kazakhstan

by Paul Brummell, published October 2008
"Kazakhstan is vast - the ninth-largest country in the world - yet there is relatively little information available in English about the attractions of this remarkable country. With the Kazakh government seeking to promote the development of tourism, publication of the Bradt guide is timely. Located between Russia and China, the state of Kazakhstan possesses an incredible diversity of natural beauty; this guide includes arrangements for visiting natural parks and reserves and special features such as singing sand dunes and the Sharyn Canyon - Asia's equivalent of the Grand Canyon. Key historical and archaeological sites are also given due prominence, Kazakhstan having been inhabited since the Stone Age." Paul Brummell is the UK Ambassador to Kazakhstan.

Lonely Planet Central Asia

by Bradley Mayhew, John Noble, Greg Bloom, and Dean Starnes, 4th edition, published August 2007
"In addition to listing the best accommodations in this intriguing region, this guide also covers the history and architecture of the cities along the famous Silk Road. Central Asiahas all the information you'll need on border crossings and visas, plus special language sections to help you express yourself on the road." Includes: Kazakstan, Kyrgyzstan, Tajikistan, Turkmenistan and Uzbekistan and now Afghanistan. This is the only travel guidebook that gets updated regularly. I wished I had bought it before we left! The next edition is due August 2010.

Central Asia Phrasebook, 2nd Edition

Lonely Planet Publication by Justin Jon Rudelson, published July 2008
"Travel the Silk Road with essential words and phrases for getting around and connecting with the people you meet, from western Xinjiang to the Karakoram Highway. Chit-chat your way along the famous Silk Road with this broad-ranging phrasebook. And once you've made an effort to speak any of the native Central Asian languages with the locals, you won't need to look up the translation for the word 'hospitality'. Covers Uyghur, Uzbek, Kyrgyz, Kazakh, Pashto, Tajik and more. Practicalities - how to book a room or find a doctor." The next edition is due 2011.

The Wordless Travel Book: Point at These Pictures to Communicate with Anyone

by Jonathan Meader, published July 1999
"It is a unique triumph for us to present a travel book that helps you communicate without words! All you need to do is point at the icons contained in this inventive little book and you'll be able to speak a foreign language and be understood. Encased in a sturdy clear plastic jacket for easy travel." This is a great aide when traveling in a country that you do not speak the language; yes, I have it!

Guide to Almaty - Stranded on the Silk Road: the What is Next? 308 pages with an Almaty map attached, by Amy Foster and Michael Rothbart, published in 2001 in Almaty. Reportedly available at hotels in Almaty.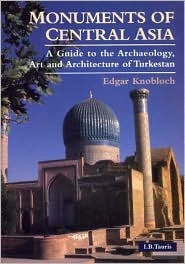 Monuments of Central Asia: A Guide to the Archaeology, Art and Architecture of Turkestan

by Edgar Knobloch, published October 2000
"Trained in Middle Eastern history in Prague, Knobloch first visited central Asia in 1959 to research and photograph archaeological sites and architectural monuments. Now that the region is open to tourism, he offers visitors a guide to the history and features of monumental structures. He includes many color photographs."

↑ Top of page ↓ Bottom of page


Once in Kazakhstan: The Snow Leopard Emerges

by Keith Rosten, published in January 2005.
"Kazakhstan became independent as the Soviet Union disintegrated in 1991. Author Keith Rosten was a Fulbright Lecturer in Kazakhstan soon after the country gained independence. In Once in Kazakhstan, Rosten draws a sometimes humorous portrait of a critical period in the emergence of Kazakhstan. He interweaves the challenges and exhilaration of living in Kazakhstan with the historical backdrop of a country grappling with its independence. From horse heads in the Central Market, to guns on the ski slopes, to the first-ever parliamentary elections, Rosten takes the reader on a whirlwind tour of the country. He leads the reader on a tour of the war monuments in Almaty and the mines of Karaganda. He vividly recounts the change in currency from the Soviet ruble to the tenge. He travels with a candidate for parliament to a rural village near Semipalatinsk and journeys to the Karakhan Mausoleum in Dzhambul. Rosten uses his knowledge of Russian living and language to give the reader access to non-English sources on the history, politics, traditions, and spirit of Kazakhstan. The book contains photographs of the people, places, and monuments of the country. Once in Kazakhstan is an invaluable resource for anyone who is traveling to Kazakhstan."


Where There Is No Doctor

by David Werner, published May 1998
"Translated into over 90 languages, Where There Is No Doctor is considered the most accessible and widely used community health care manual in the world. This revolutionary health care "bible" has saved millions of lives around the world by providing vital information on diagnosing and treating common medical problems and diseases, and giving special emphasis to prevention. The book also includes sections detailing effective examination techniques, home cures, correct usage of medicines and their precautions, nutrition, caring for children, ailments of older individuals and first aid."

Kwikpoint
International Translator. This laminated, passport size, multi-panel folding card lets you communicate your needs with over 600 colorful, universally-recognized drawings. No heat in your hotel room? Want your steak rare? Kwikpoint (®) will get your message across. (5 1/2 x 3 3/4"; 1 oz)

Kazakhstan: Nomadic Routes from Caspian to Altai

by Dagmar Schreiber, to be published February 2008.
"A country larger than Western Europe, Kazakhstan's vast expanse encompasses the Great Steppe, across which Genghis Khan's Mongol hordes galloped; the heights of the Tien Shan in the south, through whose foothills Silk Road travelers journeyed; the exquisite lakes and valleys of the Altai mountains in the northeast, and in the far west the archeologically rich desert coast of the Caspian Sea. With independence and the discovery of oil has come huge change, yet Kazakhstan remained one of the least known of Asian countries until the B*rat movie took the world by storm in 2006. Now, this land of rich history, welcoming people and whirling bazaars shares its wonders with a curious world."

Search Barnes and Noble
or Abebooks
for any book.
|
---
|
|
Page last updated on 21 July 2009.
Copyright © 2000-2016 Kazakh Adoptive Families. All rights reserved. Privacy Policy