Have you read any of the books listed here? Would you like to let others know what you thought of it? If so, please fill out a Book Review
and I will add your comments. All of these book links open in a new window
, so that you can continue to browse my bookstore while purchasing the books. A
next to a book indicates that it has been added in the last month.
Alphabetically by author, A-H
When I Met You: A Story of Russian Adoption

by Adrienne Ehlert Bashista, published May 2005, ages 3-8
"Based on the author's family's experience, this book describes a child's life before and after she was adopted from Russia. From scenes in the orphanage to the child?s Russian birthmother, this is one of the first children?s picture books to chronicle the special background of children adopted from Russia. Delicate watercolor illustrations perfectly compliment this poetic and heartfelt text, a celebration of the joy that adopting a child brings to a family." On same site, Peter's Gift coming soon. "In this charming picture book, Peter, 4, and his family travel to Russia to adopt a baby boy. Peter must come to terms with being a big brother and sharing his parents with someone new." You can also order it from the publishers drt press
.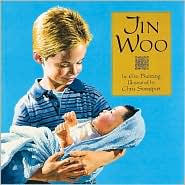 Jin Woo

by Eve Bunting and Chris K. Soentpiet, published April 2001, ages 5-8
"It's a picture book - for young kids - about a family with a older son who are adopting a baby from Korea. Of course, the son feels displaced at first, but then realizes how great it is to be a big brother. A familiar theme, but the only kids book I've seen so far that's about an adopted sibling. The older son is adopted too - but he's caucasian and the little baby they adopt is Korean. So it can work for bio-adoptive families, also."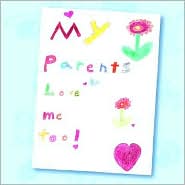 My Parents Love Me Too!

by Stacie Cahill, published June 2005
"Biological children learn that they are as special as their adopted siblings. Biological children are sometimes lost and can become confused during the celebration of adoption. Many feel less important as they witness the joy their parents experience through the adoption of a child. This text provides the biological child with answers regarding the differences of being a biological vs. being an adopted child. Biological children, having adopted siblings, will feel more loved and secure after reading My Parents Love Me Too! The author's nine year old son illustrated the book from the biological child's perspective. As the brother of two adopted sisters, this nine year old wants other biological children to understand that there are two very special ways in which to build family. Cahill and son want biological children to celebrate their births as well."

My Family Is Forever

by Nancy Carlson, published March 2004, reprinted January 2006, ages 4-8
"A young Asian girl's first-person simple narration states how she came to her adoptive parents and describes the joys of having a loving family. While she sees that her friend Jeffrey has his mom's red hair and his dad's big ears, she matter-of-factly notes, "Families are formed in different ways, so they don't always look alike." Later, the child talks about how she resembles her parents: "I'm a good cook like my dad, and a wonderful dancer like my mom." Like many adopted kids, she wonders about her birth parents, and is very sure that "they wanted me to have a family to love." Decorated with upbeat, brightly colored pictures portraying a supportive, loving family, this cozy picture book will have great appeal for many youngsters, though adoptees, and kids from blended families, single-parent homes, or any nontraditional family, will feel a special connection. Lauren Peterson Copyright © American Library Association. All rights reserved"

↑ Top of page ↓ Bottom of page


Dreams Come True: A story about the blessings of adoption
by Lisa Cherman and Amy H. D'Elia
"In the book, a 6-year-old boy named Grisha cries himself to sleep in an orphanage until a guardian angel named Babushka appears on a dream cloud to tell him life will soon improve. Babushka takes the little boy by the hand, and they travel together on a dream cloud as she tells him the story of how he will become his future parents' son. They see Grisha's future home, his new family, the adoption agency that brings the family together, a U.S. Embassy office, a foreign courtroom, an airport and an airplane." The authors have 5 children adopted from Russia and Kazakhstan. The book may be purchased through Cradle of Hope
; proceeds from the book will go to a humanitarian aid fund established by the agency that benefits Eastern European orphanages.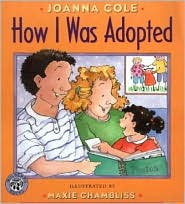 How I Was Adopted

by Joanna Cole and Maxie Chambliss, reprint August 1999, ages 5-8
"Sam has a story all her own, yet common to millions of families: the story of how she was adopted. It's about how babies are born and how children grow, about what makes people different and what makes them the same. Most of all, it's a story about love. And in the end, Sam's story comes full circle, inviting young readers to share stories of how they were adopted."


Tell Me Again about the Night I Was Born

by Jamie Lee Curtis, published August 2000, ages 5-8
"In a refrain that begins every sentence, the young narrator asks her adoptive parents to "tell me again" the story of her birth and introduction into the family she is now a part of. The entertaining, idiosyncratic ramble, which begins with a phone call in the middle of the night, contains details that young children will appreciate. The humorous cartoon-style pictures are a perfect visual counterpart to the text." (Horn Book) This link is for a paperback; it also comes in hardcover and as a board book.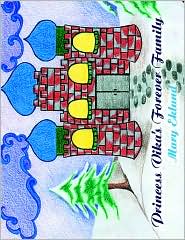 Princess Vika's Forever Family

by Mary Eklund, published September 2006, ages 9-12
" This is a story about adoption. Both sides, that of the orphaned little girl and the adoptive parents, who have a story to tell that in the end becomes the story of both. The story portrays a dream within a dream and dreams that overlap. Distance, language, and culture cannot seperate these hearts that long to become a true family; where each becomes the other's dream turned into reality. The wonderous love of God is seen as he works out the rough spots and opens doors to breach the distance that brings them together. You will be touched by the story and its sweetness and simplicity."

Forever Fingerprints....An Amazing Discovery for Adopted Children

by Sherrie Eldridge, published October 2007.
"For adopted children, learning about their beginnings and how they understand what that means to them is a process. It doesn't happen at one point in time, but rather throughout the experiences of life. In this heartwarming children's book, Forever Fingerprints uses a common occurrence - a relative's pregnancy - as a springboard for discussions on birthparents, where adopted children are before they are born, and how that makes one little girl feel about it. Lucie is excited to feel a baby moving in her Aunt Grace's tummy but it makes her think of how she understands her adoption story in a different way. The tools offered in this book help her to create a unique connection to her birthparents, allow how she is feeling to surface and to be discussed, and give Lucie's parents the chance to reinforce their love for her, to empathize with her feelings and to honor her past." By the author of Twenty Things Adopted Kids Wished Their Adoptive Parents Knew.

↑ Top of page ↓ Bottom of page


Adoption is for Always
by Linda Walvoord Girard, reprint September 1991, ages 5-8
"A five-year-old girl, Celia, knows she is adopted. But she is confused and angry, and her parents must deal with her many questions in an honest and loving way. Information about adoption a young child can understand is integrated into the text."

A Blessing from Above (Golden Books Family Storytime #3)

by Patti Henderson, published December 1998, ages 4-7
"A tender tale about a mother kangaroo's love for her little "blessing from above" -- the baby bird she has adopted."

Adoption Stories for Young People

by Randall B. Hicks, published September 1995, ages 5-8.

Search Barnes and Noble
or Abebooks
for any book.


|
---
|
|
Page last updated on 15 August 2008.
Copyright © 2000-2016 Kazakh Adoptive Families. All rights reserved. Privacy Policy