Have you read any of the books listed here? Would you like to let others know what you thought of it? If so, please fill out a Book Review
and I will add your comments. All of these book links open in a new window
, so that you can continue to browse my bookstore while purchasing the books. A
next to a book indicates that it has been added in the last month.
Alphabetically by author, I-K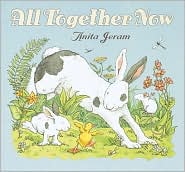 All Together Now

by Anita Jeram, published December 1999, ages 3-7
"Families are unique. Mommy Rabbit's family consists of Bunny, Little Duckling, and Miss Mouse. The siblings each have their own special talent, which the others admire and appreciate. But they also have something in common--great big feet! So, of course, they play the "Thump Your Great Big Feet Game" all the time. Mommy Rabbit calls all her children the "little Honeys." Gentle, sweet illustrations perfectly match the positive message about families that the text conveys. Although each child is different, Mommy Rabbit loves them all the same, deeply and unconditionally. " Especially appropriate for families with biological and adopted children.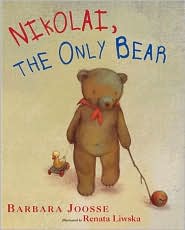 Nikolai, The Only Bear

by Barbara M. Josse, published March 2005, ages 4-8
"There are one hundred orphans at the Russian orphanage, but Nikolai is the only bear. He growls when he speaks and claws the air when he plays. "Play nice, Nikolai," the keepers say. No one wants to take Nikolai home. Until one day, when a fur-faced man and a smooth-faced woman come to visit from America. They growl with him and play with him, and sing songs that make him feel soft-bearish. And when it's time for them to go home, Nikolai knows that he has found the right family at last."

A Mother for Choco

by Keiko Kasza, published March 1996 , ages 3-6.
"Choco, a lonely little bird, searches for a mother. During his travels, he meets many animals, including Mrs. Giraffe, Mrs. Penguin, and Mrs. Walrus. . . . 'No matter where Choco searched, he couldn't find a mother who looked just like him.' . . . But when Choco begins to cry, Mrs. Bear proves to be his idea of the perfect mother: she holds him, kisses him, and sings and dances with Choco to cheer him up." (Horn Book)


Over the Moon: An Adoption Tale

by Karen Katz, 2nd rep, June 2001, ages 5-7
"A couple travels to "a faraway place" to adopt their newborn daughter. The text and collage, gouache, and colored pencil illustrations relate the story of the parents' excitement about and love for their child. Images swirl around the pages in brilliant colors and patterns, which is engaging but, like the cheeriness of the text, also distracting." (Horn Book)

Horace

by Holly Keller, published March 1991, ages 4-7
"Horace is a little spotted leopard who lives with his tiger parents. . . . His life with his family is sweet, but during his birthday party, Horace turns sad when he realizes all his cousins have stripes, and he begins to dream about going to a place where everyone looks like him." (Booklist) "Preschool to grade two." (SLJ)

↑ Top of page ↓ Bottom of page



Little Miss Spider

by David Kirk, published September 1999, ages 4-6
"On her very first day of life, Little Miss Spider searches for her mother and finds love in an unexpected place." All of the Miss Spider books are very colorful; I picked this one to list because of the adoption theme.

I Don't Have Your Eyes

by Carrie A. Kitze, published November 2003, ages infant and preschool
"I Don't Have Your Eyes, but I have your way of looking at things.... begins this beautifully illustrated and uplifting book that helps to create the intimate parent/caregiver and child bond that is so important within a family. While others may notice the physical differences, there are so many ways we can celebrate the commonality that makes us truly family. We don't look the same on the outside, but in our hearts, we are the same."


The Day We Met You

by Phoebe Koehler, published May 1997 (reprint), for infant and preschoolers
"Gathering bottles, formula, diapers, a cradle, a car seat, and clothing, a mother and a father share the joy and excitement of the preparations they make for the adopted child for whom they have been waiting eagerly." This one would only be appropriate for those who have adopted infants.

Search Barnes and Noble
or Abebooks
for any book.


|
---
|
|
Page last updated on 18 February 2008.
Copyright © 2000-2016 Kazakh Adoptive Families. All rights reserved. Privacy Policy