Have you read any of the books listed here? Would you like to let others know what you thought of it? If so, please fill out a Book Review
and I will add your comments. All of these book links open in a new window
, so that you can continue to browse my bookstore while purchasing the books. A
next to a book indicates that it has been added in the last month.
Alphabetically by author, L-R
My Adopted Child, There's No One Like You

by Kevin Leman, published October 2007, ages 4-8
"Birth order guru, Dr. Kevin Leman, and his artist son, Kevin Leman II, offer parents the perfect way to tell their adopted child just how wonderful he or she is."

Emma's Yucky Brother

by Jean Little, published April 2002, ages 4-8
"Emma has wanted a little brother for as long as she can remember, so when her parents are about to adopt four-year-old Max, she is excited. First, though, she needs to overcome his seeming dislike for her. The relationship is rocky, but in the end both siblings recognize the special bond they share. The children's reactions to the new family dynamics are realistic and the steps involved in Max's move from a foster home to his adoptive family will leave readers with a much better understanding of the emotional toll such a move has on everyone involved. These feelings are adeptly captured in the art. The expressive faces of Emma, Max, and their parents reflect the many moods of this evolving family. The gentle tone makes this book a wonderful resource for parents and caregivers/foster families helping youngsters understand this process of acceptance and change."

Why Was I Adopted?

by Carole Livingston, published January 1997
"Celebrating this classic's twentieth year in print, Why Was I Adopted? provides parents with a tool for helping their child understand the unique circumstances of their "birth" into an adoptive family. Offering honest, clear explanations for some of the possible issues that an adopted child may face growing up, this book answers such questions as - How do adopted children deal with the fact that they may look nothing like their parents or siblings? What if they were adopted from another country? - Why did the birth parents give up the child? - How did the adoptive parents find the child? - Does being adopted mean the child is any better or worse than other children? - What if one day the child wants to know his or her birth parents? Why Was I Adopted? explains away much of the initial confusion, instills a feeling of uniqueness in an adopted child, and encourages open lines of communication with parents."


A Koala for Katie

by Jonathon London, published August 1997, ages 3-6
"As four-year-old Katie and her parents visit the zoo, Katie wonders aloud where babies come from. She knows that she is adopted and wonders if the baby koala could be happy with a new mommy. This simple, warm story and charming full-color illustrations combine to make the perfect adoption story for young children."

Happy Adoption Day!

by John McCutcheon, published September 1996, infants through pre-school
"McCutcheon's catchy song celebrates the beginning of an adoptive family with loving, supportive lyrics. Bold folk-art style paintings that are rich and bright with color, pattern, and motion depict an Asian child and her white parents celebrating the anniversary of her homecoming with two nontraditional families. Music is included."(Horn Book)

↑ Top of page ↓ Bottom of page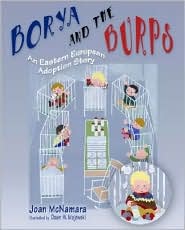 Borya and the Burps: An Eastern European Adoption Story

by Joan McNamara, published May 2005, ages 3-8.
"In recent years more children have been adopted from Eastern Europe, Russia, and the former Soviet Bloc countries than from any other region of the world. Yet until now, there have been no picture books designed to tell their stories of finding a forever family through adoption. Long time social worker Joan McNamara has ably filled that gap with a new children's book that acknowledges the sense of security and comfort that many children have with the "familiar" in their daily life in an orphanage compared to the unknowns of a new adoptive family. This delightful book gently illustrates some of the confusion children feel when they are removed from the multiple caretakers and groups of children whom they know within their (often deprived) orphanages and are moved into a loving but unfamiliar new family with a sensory-enriched (but possibly overwhelming) home environment. With their whole world turned upside down, children are still able to struggle to make sense of these changes and ultimately blossom within a new family, with a parent or parents who will be theirs forever."
You can read the entire book online at Perspectives Press
.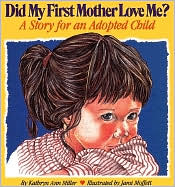 Did My First Mother Love Me?: A Story for an Adopted Child

by Kathryn Ann Miller, published August 1997, ages 5 to 8
"Morgan knows her adoptive parents love her, but she wonders whether her first mother did too. A letter from her birth mother reassures Morgan that placing her for adoption was an act of love. Simple language and pencil illustrations provide a platform for discussing with adopted children their origins. It is also useful for explaining the concept to children who may have friends or relatives who are adopted. An appendix in the back is geared towards parents, with hints on approaches to explaining adoption to children."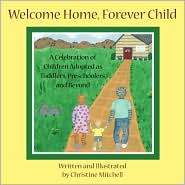 Welcome Home, Forever Child: A Celebration of Children Adopted As Toddlers, Preschoolers, and Beyond

by Christine Mitchell, published December 2006
"This book offers a loving message of reassurance and permanence. After expressing their excitement at welcoming their new child home, the new parents acknowledge that they missed significant events and milestones in the child's early years. The family then cheerfully looks forward to the experiences and 'firsts' they will share and the memories they will make together. Throughout the book, the parents promise to love and nurture their child. Finally, the family reiterates their joy at welcoming their Forever Child into his or her Forever Family. Social workers, therapists, support groups, and CASA volunteers will want to recommend it to the families they work with. Welcome Home, Forever Child will also make a very special keepsake gift for a child upon joining his or her new family, or finalizing the adoption, or the anniversary of either event."

All About Adoption: How Families are Made & How Kids feel about it

by Marc Nemiroff, published June 2003, ages 5-8
"For children adopted at any age and from any country, All About Adoption explores the what, how, and why of adoption, as well as the many feelings kids can experience as the grow up. And for parents, an extensive afterword discusses the unique practical and emotional dimensions of adoptive children and their families, with suggestions for answering the most challenging questions."

We Belong Together: A Book about Adoption and Families

by Todd Parr, published November 2007, ages 5-6
"In a kid-friendly, accessible way, this book explores the ways that people can choose to come together to make a family. It's about sharing your home and sharing your heart to make a family that belongs together."

↑ Top of page ↓ Bottom of page


Mommy Far, Mommy Near

by Carol Antoinette Peacock, published March 2000, ages 5-7
"This adoption story is told by Elizabeth, a little girl born in China and adopted by American parents. When she is old enough to learn that not all babies come from China, her mother explains gently that she and her adopted sister have two mommies, one far and one near. So very much information for a little girl to process. The author does a superb job with difficult subject matter, such as when she deals with abandonment and the Chinese birth control policy. The poignancy of this book is felt on every page. There are two features that are particularly notable. The first is that Elizabeth explains the adoption story as she understands it to her younger sister, Katherine, so that child is talking to child. The second is a two-page spread showing that adoption is to forever--that it is an everlasting bond stretching from childhood to adulthood, with significant milestones depicted. " While written for an adoption from China, the issues are pertinent to an adoption from any Asian country.


Families Are Different

by Nina Pellegrini, published September 1991, ages 4-8
"The title of this book, created by a woman with an adopted Korean daughter, telegraphs its message loud and clear. The simple, direct text paired with serviceable if uninspired artwork sketches the story of a family composed of Caucasian parents, their two adopted Korean daughters and their dog. Told in the voice of the younger daughter Nico, the familiar concerns of adopted children and their parents are expressed. Nico's mother reassures her by reminding her that no family is exactly alike. Nico then observes a diverse mix of families including single parent, mixed race, etc. Though occasionally coy -'My mom and dad are really old. You have to count to about thirty to get to their age'- this is a straightforward celebration of "a special kind of glue called love" that holds families together. Readers hungry for this type of bibliotherapy will take it to heart."


Seeds of Love: For Brothers and Sisters of International Adoption

by Mary Ebejer Petertyl, published May 1997, ages 5-9
"Adding a new baby to the family is an exciting time for young children. It can also be a stressful one -- especially if you're a young child whose parents will be traveling abroad without you to complete an international adoption. Lovingly written and beautifully illustrated, Seeds of Love gives parents fun and practical ideas for easing their children's anxiety prior to international adoption travel."


Let's Talk About It: Adoption

by Fred Rogers and Jum Judkis, published February 1998, ages 5-6
"In the first book of the "Let's Talk About It" series, Fred Rogers confronts the questions children might have about being adopted. He imparts an important message--the secure feeling of belonging in a family comes from the many ways we help children know they are loved. Full-color photos."

Rosie's Family: An Adoption Story

by Lori Rosove, published January 2001, ages 4-8
"An adoption story for young children. Rosie is a little dog who doesn't look like its parents; she is a beagle who was adopted by schnauzers. In the book she explores what it is like to be in an adoptive family. It is a cheerful book, which young children will enjoy."

Search Barnes and Noble
or Abebooks
for any book.
|
---
|
Page last updated on 18 February 2008.
Copyright © 2000-2016 Kazakh Adoptive Families. All rights reserved. Privacy Policy