Have you read any of the books listed here? Would you like to let others know what you thought of it? If so, please fill out a Book Review
and I will add your comments. All of these book links open in a new window
, so that you can continue to browse my bookstore while purchasing the books. A
next to a book indicates that it has been added in the last month. These books are either Russia or multicultural themed; for books on Kazakhstan culture, see the About Kazakhstan section of the bookstore.
Alphabetically by author, A-L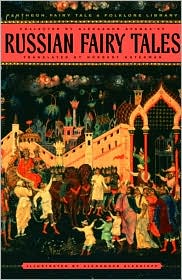 Russian Fairy Tales

by Aleksandr Afanasyev, published 1976.
"The only comprehensive edition available in English of the classic Russian folk and fairy tales." Afanasyev has been compared to the Brothers Grimm for Russia.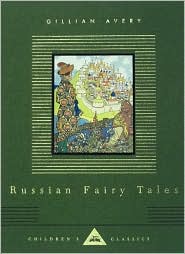 Russian Fairy Tales (Everyman's Library)

by Gillian Avery and Arthur Ransome, published September 1995
"An illustrated collection of traditional Russian tales including "Vassilissa the Beautiful," "The Frog Princess," and "The White Duck."

Mishka, An Adoption Tale

by Adrienne Ehlert Bahista, published October 2007
"Join Mo as a special couple take him on a marvelous journey in an airplane to meet his new best friend, Yuri. Mo has lots of questions once he gets to his destination. Where is he? What's a mishka? And most importantly, will the man and the woman who brought him and Yuri together ever come back?"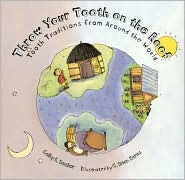 Throw Your Tooth on the Roof: Tooth Traditions from Around the World

by Selby Beeler, published September 2001, ages 5-8
"children from familiar and remote countries on each continent explain what they do when they lose a tooth. The Tooth Fairy surfaces on several occasions; but for kids from a number of countries, she's replaced by a mouse, a squirrel or another critter. In other traditions, parents fashion jewelry from baby teeth, children wrap a tooth in a piece of food and feed it to an animal or throw their teeth on the roof."


The Littlest Matryoshka

by Corrine Demas Bliss and Tom Voss, published August 1999, ages 5-7.
"A beautiful set of matryoshka dolls is lovingly hand-crafted in Russia, then shipped off to America. But, once in a shop, the littlest doll gets swept off the shelf and makes the set incomplete. This helps young Nina get the set for a reduced price ... Yet she is confident that one day the littlest matryoshka will be reunited with her sisters..."
Review from an adoptive mom: "My daughter is 3.5 and loves this book. I originally intended to give it to her at a slightly older age, but she discovered it early and just loves it. I purchased several sets of the stacking dolls while in Kazakhstan and Russia and she plays with them constantly. They have become real children to her and the book is a lovely complement for the toys."

How the Russian Snow Maiden Helped Santa Claus

by Gail Buyske, published August 2005 "Santa Claus is overworked one year and writes for help to his friend Father Frost, the Russian Santa. Santa Claus asks whether Frost's granddaughter and helper, the Snow Maiden, could come to the North Pole and pitch in. Father Frost agrees and sends the Snow Maiden to the North Pole with a nesting doll (a matryoshka) to remind her of her home in Russia. Playing with the doll consoles the Snow Maiden as she worries that she is not being enough help to Santa. When the littlest piece of the doll is lost, her woes are worsened and she despairs of being 'only a little girl.' When the piece is found, Santa also finds the perfect gift he needed for this year's Christmas. And the Snow Maiden learns a lesson in being herself." This is a great holiday tale blending American and Russian customs.

↑ Top of page ↓ Bottom of page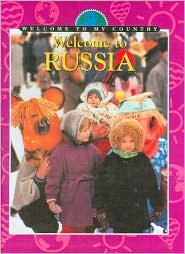 Welcome to Russia (Welcome to My Country Series)

by Fiona Conboy and Terence M.G. Rice, published December 2000 and updated in 2005, ages 7 and up
"Using large photographs depicting tourist attractions, geography, wildlife, political personalities, and food, this volume offers an introduction to Russia for children. The guide also provides maps, a "Quick Facts" page, a glossary, and a resource list that includes books, websites, and videos. Readers will especially enjoy the many pictures of Russian children in this good first look at a fascinating country rich in history and diversity. Reviewer: A. Braga, source: Parent Council Volume 8." This book is from the same publisher as Countries of the World: Russia and contains some of the pictures and information as that book in a larger font. Nice book for this age group. The Kazakhstan version of this book is listed in the Kazakhstan pages of my bookstore.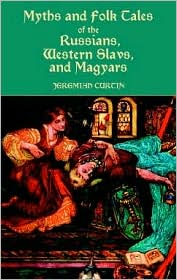 Myths and Folk: Tales of Russians, Western Slavs, and Magyars

by Jeremiah Curtin, published July 1999
"32 tales of enchantment, compiled in the late 19th century by a Smithsonian Institution ethnologist. Yelena the Wise, The King of the Toads, The Reed Maiden, more offer magical entertainment for readers of all ages. Compiled in the late 19th century by a Smithsonian Institution ethnologist, this rare collection of unusual fairytales represents both a priceless resource of anthropologic lore as well as magical entertainment. All 32 tales-including Yelena the Wise, The King of the Toads, The Reed Maiden, Ivan Tsarevich, the Fire-bird, and the Gray Wolf, and more-are derived from sources in Russia and nearby regions. Hours of enchantment for readers of all ages."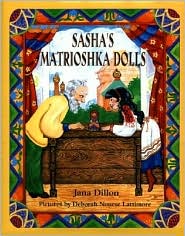 Sasha's Matrioshka Dolls

by Jana Dillon, published March 2003, ages 5-9
"In old Moscow live a girl named Sasha and her grandfather, a boxmaker. One day Sasha's rag doll is eaten by mice. Her loving grandfather sets out to make her a doll that is impervious to mice, rats, cats, and even the Tsar's cavalry. What can it be but seven carved wooden dolls nestled together to form one thumbling doll - the first matrioshka, or 'little mother.' How Sasha's grandfather comes to make the doll is at the heart of this warm intergenerational story, lavishly illustrated in brilliant watercolors and colored pencils."


Count Your Way Through Russia
by James S. Haskins, published March 1988, ages 5-8
"Presents the numbers one through ten in Russian, using each number to introduce concepts about the Soviet Union and Russian culture."

Look What Came from Russia

by Miles Harvey, published September 1999
"Our lives are full of objects, inventions, customs, and words that originated in other countries. Each book in this elementary-level multicultural series explores, in very simple fashion, the foods, words, inventions, tools, customs, toys, games/sports, animals, religions, holidays, fashions, dance, theater, music, and crafts that a specific country has contributed to the world."

Some of the books listed on the Kazakhstan pages of the bookstore are written for children. For information on the Kazakh language, please refer to the Kazakh Language page.
Search Barnes and Noble
or Abebooks
for any book.
|
---
|
Page last updated on 18 February 2008.
Copyright © 2000-2016 Kazakh Adoptive Families. All rights reserved. Privacy Policy