Cultural Books for Kids, Page 2
Alphabetically by author, M-Z, none
Have you read any of the books listed here? Would you like to let others know what you thought of it? If so, please fill out a Book Review
and I will add your comments. All of these book links open in a new window
, so that you can continue to browse my bookstore while purchasing the books. A
next to a book indicates that it has been added in the last month. These books are either Russia or multicultural themed; for books on Kazakhstan culture, see the About Kazakhstan section of the bookstore.
Folk Tales from Russia

by Donald Alexander MacKenzie, reprint October 1998, ages 9-12
"A collection of seven tales, some traditional, some based on historical accounts, and some original, reflecting the characteristics of the Russian landscape and its people." This book was originally printed in 1916.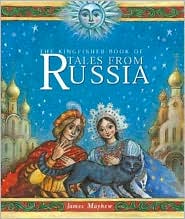 Kingfisher Book of Tales from Russia

by James Mayhew, published September 2000, ages 7-10
"Koshka, the storytelling cat, narrates this inspiring collection of traditional Russian tales, skillfully interwoven with a colorful account of Koshka's own adventures. Meet the beautiful Sea Princess, the glorious Firebird, and the exquisite Snow Maiden, who will take you on an unforgettable journey through a bewitching and timeless land."

Cultural Atlas of Russia
by Robin R. Milner-Gulland and Nikolai Dejeuski, published October 1998, ages 12+
"This revised edition of the book originally published in 1989 is a treasure for thoseeager to learn more about Russia, its fascinating culture, and its people. Billed as a cultural atlas, the informative text, maps, photos and drawings combine to make engaging reading. Beginning with the origins of written history in Eastern Europe, up to and including modern Russia, this wonderful book highlights important events from Russia's creation, expansion, and the ultimate breakup of the Soviet Union to form modern Russia. It's a engrossing and tumultuous tale, well told and illustrated. Special features include a helpful timeline, lists of rulers, the beginning and end of both imperial Russia and Communist Russia, and an outstanding collection of maps that illustrate everything from invasions to types of soil. The rare photos and historical drawings add further to the readers understanding of Russia and add to the overall beauty of the book."


Eyewitness: Russia

by Kathleen Berton Murrell, an Eyewitness Dorling Kindersley book, published May 2000, young adult.
"An overview of the land, people, history, and culture of Russia from its earliest days to the present. Here is a visually stunning introduction to the fascinating and diverse land of Russia. Color photographs of costumes, crafts, jewels, and palaces offer a unique view of Russia, and the lives of its inhabitants through the ages."

Magic Nesting Doll

by Jacqueline K. Ogburn, published September 2000, ages 7-10
"This beautifully designed and illustrated book will appeal to all who enjoy lavishly illustrated and well-told fairy tales. Long's rich oil paintings, with their details of fabric and flowers, black borders and backgrounds, resemble the jewel-like enameled boxes of Russian folk tradition. The tale, too, incorporates traditional folk elements, including a magical matryoshka doll, talking animal helpers (a bear, a wolf and a firebird), and a handsome prince frozen by an evil spell, who is saved by Katya's courage and her kiss. Katya is a strong heroine who makes her way alone in the world, determined to do what is right. It is only gradually that she falls in love with the Tsarevitch she sets out to save. Ogburn's prose flows smoothly and rhythmically, making this tale as lovely to read aloud as it is to look at. The details of snow, birds, clothing, plants, and animals, and the lavish designs in the architecture and in the interiors, in combination with the appealing story, simply and economically told, but rich in archetypes, make this a book to be enjoyed over and over again."


Rechenka's Eggs

by Patricia Polacco, published March 1996, ages 4-8
"An injured goose rescued by Babushka, having broken the painted eggs intended for the Easter Festival in Moscva, lays thirteen marvelously colored eggs to replace them, then leaves behind one final miracle in egg form before returning to her own kind." All of Polacco's stories have an Eastern European theme; you can visit Polacco's
website to learn about her and the stories.

↑ Top of page ↓ Bottom of page


Countries of the World: Russia

by Terence M.G. Rice, published July 1999 and updated in 2005, ages 10 and up
"This engaging series offers readers a close-up look at countries around the world. Vivid color photographs enhance up-to-date information on each country's geography, history, system of government, lifestyle, language, art, food, and more. A section of special features provides a window into each country's unique customs as well as its current issues. Each volume details its country's current and historical relations with the United States and Canada. Also included in each volume is a black and white classroom map, easy to photocopy for classroom activities." I think that this book would be a terrific addition for your home library if your child is ethnically Russian; lots of pictures and information. The Kazakhstan version of this book is listed in the Kazakhstan pages of my bookstore.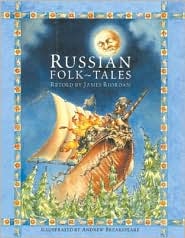 Russian Folk-Tales

retold by James Riordan, published in November 2000, ages 6-10
"Written by award-winning children's author James Riordan, this book is a beguiling collection of stories set among the wide rivers and snow-covered forests and steppes of Russian land still shrouded in mystery in the eyes of the Western reader. The incomparable beauty of untamed nature and the Slavic gift for storytelling make for a captivating combination. Meet boyars and cossacks, kings and queens, merchants and minstrels, robbers and angels, witches and peasants. Ships fly through the air, princesses turn into frogs, a snowmaiden longs for a human heart, the mighty Firebird steals the golden apples. Folk tales, heroic sagas, legends and myths from villages and towns all across Russia - they are all here in this fascinating anthology. Evocative full-color illustrations accompany each story."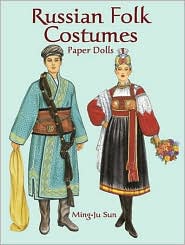 Russian Folk Costumes Paper Dolls

by Ming-Ju Sun, published January 2003
"Dress two figures in 16 finely detailed costumes worn at folk festivals during the late-nineteenth and early-twentieth centuries in former republics of the Soviet Union. Wardrobes include beautifully embroidered shawls, skirts, tunics, trousers, and long coats from Russia, Estonia, Georgia, Azerbaijan, Kazakhstan, Uzbekistan, Turkmenistan, and Tajikistan. A great classroom teaching aid, this collection will delight paper doll fans and folk costume enthusiasts of all ages." I bought mine at the UN, and it is very nice.

↑ Top of page ↓ Bottom of page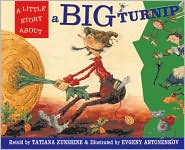 A Little Story About a Big Turnip, a Russian folktale
retold by Tatiana Zunshine, published April 2004, ages 3-8
"Drawing from the history of Russian verbal art, this story about a family that must work together is an adaptation of a Russian children's folk tale. When the grandfather has trouble plucking a turnip from his garden, it takes the help of the entire family?grandmother, granddaughter, dog, cat, and mouse?to dislodge it. Rhythm and melody work in combination with a clever refrain and comical, vivid watercolor drawings to make this story lyrically and visually entertaining." Another from the same author is Silly Horse
. You can get more details on books from other places in the world by visiting Pumpkin House
.
From the same publisher is The Love for Three Oranges
by Sergei Prokofiev, the composer of the opera of the same name; published September 2006, ages 7-9; "The magical surrealism of the famous opera The Love of Three Oranges is vividly depicted in this pictorial adaptation, designed to create an awareness of classical music among young children. Combining humor, sorrow, fantasy, and a bit of the grotesque, this fanciful story tells the tale of a prince whose melancholy can only be cured by a hearty laugh. In order to break through his gloom, the king plans a splendid feast and orders the court jester, Truffaldino, to appear and cheer up his son. When the prince finally lets out a guffaw, he incurs the wrath of Fata Morgana, a malicious witch who curses him with an undeniable passion for three oranges?oranges that he must chase to the ends of the earth."

Silk Road Painting
frequently carries books for children, such as Aldar Kose, which are in Russian, Kazakh, and English.
The next books are out of print and may be difficult to find. You can try a Search Barnes & Noble out of print and used books
or Advanced Book Exchange
. I have provided the ISBN numbers to aid you in your search for them. They occasionally show up on eBay
, and you may also find them in a public or university library.
Folk Tales from the Soviet Union: Central Asia and Kazakhstan compiled by R. Babloyan and M. Shumskaya, 1986, ISBN 5050015596 and 5050015642. This book contains one Uzbek, two Kirghis, two Tajik, two Turkmen, and one Kazakh folk tales. Beautifully illustrated by artists native to the countries. I think it would make a nice addition to your home library.
Stories of the Steppes: Kazakh Folktales retold by Mary Lou Masey, 1986, Library of Congress catalog card number 68-20183. Nineteen tales and an introduction that briefly describes the Kazakh tradition of oral history. One to three black and white illustrations per story. Another good addition for your home.
Russian Girl: Life in an Old Russian Town by Russ Kendall, 1994, ages 5-9. "Text and photographs describe the life of nine-year-old Olga Surikova and her family in the small Russian city of Suzdal." In real life, Olga was killed in a car accident in 2003. Lots of pictures, a few recipes, Russian alphabet and words. If you have a "Russian girl" like I do, consider this book.
Favorite Fairy Tales Told in Russia by Virginia Haviland, published March 1995, ages 7-11. "A beautiful snow maiden comes to life - but what will happen when winter ends? Poor Vasilisa has to work like a slave for the evil Baba Yaga - will her magic doll be able to save her? Only a flying ship will win the hand of the Tsar's daughter - how can the Fool ever build one? This rich and varied selection of old Russian tales introduces many magical, memorable characters."

Houses Around Our World , published October 1994 by the National Geographic Society, for infants or children in preschool ages 4-8.
Some of the books listed on the Kazakhstan pages of the bookstore are written for children. For information on the Kazakh language, please refer to the Kazakh Language page.
Search Barnes and Noble
or Abebooks
for any book.
|
---
|
Page last updated on 18 February 2008.
Copyright © 2000-2016 Kazakh Adoptive Families. All rights reserved. Privacy Policy