Have you read any of the books listed here? Would you like to let others know what you thought of it? If so, please fill out a Book Review
and I will add your comments. All of these book links open in a new window
, so that you can continue to browse my bookstore while purchasing the books. A
next to a book indicates that it has been added in the last month. Although these books are for older children, there are many books in the Kids Adoption section that would be appropriate for older kids as well.


Lucy's Family Tree

by Karen Halvorsen Schreck, published December 2006, ages 4-12
"Lucy, an adopted child from Mexico, is convinced that her family background is too complicated for her to make the family tree she is supposed to create for a homework assignment." This book would make an excellent gift for a teacher as it addresses the need to think about all styles of families when making assignments like this to students.

"Did you know that nearly all kids who are adopted by their families get asked questions about adoption. To learn how to answer questions about adoption with the W.I.S.E. Up program, you can purchase The W.I.S.E. Up! Powerbook (30 pages, ages 6-12)." Available from the publisher Center for Adoption Support and Education
and from Tapestry Books
.


We Adopted You, Benjamin Koo

by Linda W. Girard, published March 1992, ages 7-11
"Nine-year-old Benjamin recounts how he was adopted as a foundling from a Korean orphanage by a childless couple in the United States. . . . It is not until the second grade that Benjamin is fully aware that he does not resemble his Anglo-American family. He reacts with predictable anger, threatening to return to Korea to find his 'real mother.' Luckily, Benjamin is surrounded by caring adults and his unhappiness is short-lived. Benjamin gains additional insight into inter-country adoption when his parents adopt three-year-old Susan from Brazil." (SLJ)

Adopted from Asia: How It Feels to Grow up in America

by Francis Koh, published December 1993
"Written with older kids in mind, Koh takes a look at the feeling and lives of adopted Korean-born children. Eleven teens and young adults share their experiences of being adopted from Korea and coming of age in America. They talk about what is most important to them-relationships with their adopted families, the quest for racial and ethnic identity, and the positive and negative aspects of life as an adoptee."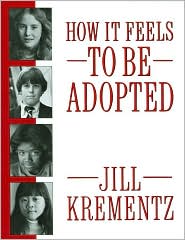 How It Feels to Be Adopted

by Jill Krementz, reprint February 1988
"Interviews with adopted children and adoptive families about their experiences and feelings concerning adoption." "19 boys and girls, from age 8 - 16 and from every social background, confide their feelings about this crucial fact."

Who Am I?: And Other Questions of Adopted Kids, Vol. 1

by Charlene C. Gianetti, published October 1999
"When neither picture books nor adult guides are of help, this latest Plugged In book speaks confidently to preteens and teens seeking answers to their questions about being adopted. Why am I so different from my family? Why did my biological mother give me up? Should I search for my birth parents? Who Am I? gives answers objectively and reassuringly with advice from experts and quotes from adopted teens."

↑ Top of page ↓ Bottom of page


Being Adopted: The Lifelong Search for Self

by David M. Brodzinsky, et.al., published March 1993
"Recent studies have shown that being adopted can affect many aspects of adoptees' lives, from relationships with adoptive parents to bonds with their own children. Using their combined total of 55 years experience in clinical and research work with adoptees and their families, the authors use the voices of adoptees themselves to trace how adoption is experienced over a lifetime."

Twenty Life Transforming Choices Adoptees Need to Make

by Sherrie Eldridge, published April 2003
"Written especially for adult adoptees working through complex feelings about being adopted and who are considering finding their birth parents, this book is also an invaluable resources for adoptive or birth parents who want to gain a better insight into their child. Eldridge has written a guide with Christian undertones for other adoptees who are striving to deal with the grief and loss connected with their adoptions. Drawing on her own experiences and on interviews with more than 70 adoptees, she dedicates the majority of the book to certain emotions that the adoptee may experience. Eldridge explains each sentiment and then offers suggestions for coping."

Search Barnes and Noble
or Abebooks
for any book.
|
---
|
Page last updated on 18 February 2008.
Copyright © 2000-2016 Kazakh Adoptive Families. All rights reserved. Privacy Policy