Have you read any of the books listed here? Would you like to let others know what you thought of it? If so, please fill out a Book Review
and I will add your comments. All of these book links open in a new window
, so that you can continue to browse my bookstore while purchasing the books. A
next to a book indicates that it has been added in the last month.
What to Expect the First Year

by Heidi Murkoff, et.al., revised November 2003
"Everything new parents need to know about the care (and feeding) of an infant, from the authors of What to Expect When You're Expecting. Covers monthly growth and development, feeding for every age and stage, sleep strategies that really work. Filled with the most practical tips (how to give a bath, decode your baby's crying, what to buy for baby, and when to return to work) and the most up-to-date medical advice (the latest on vaccines, vitamins, illnesses, SIDS, safety, and more). "

What to Expect the Toddler Years

by Arlene Eisenberg, et.al., published November 1996
"In a direct continuation of What to Expect When You're Expecting and What to Expect the First Year, America's most trusted pregnancy and child-care books, comes an all-inclusive guide for the parents of toddlers. Complete with information on self-esteem; emotional, physical, and social development; discipline; eccentric behaviors; and making time for yourself in the midst of it all."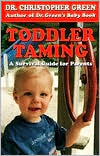 Toddler Taming: A Survival Guide for Parents

by Christopher Green, published March 1985
"At last here is practical advice--mixed with humor--for how to cope with those difficulties that turn your sweet baby into a holy terror, including: toilet training, tantrums and other tricks, sleep problems, fidgets, and more. Featuring special advice for working mothers and single parents, Toddler Training strives to calm your fears, with advice that really works!" One of my best friends gave this book to me when I had my first child; very practical advise.

Making the "Terrible" Twos Terrific!

by John K. Rosemond, published October 1993
"America's most widely read parenting authority says that understanding is the key to negotiating through this potentially tumultuous time. He guides parents through toilet training, establishing good bedtime habits, developing an effective disciplinary style, controlling biting and other aggressive behaviors, and many other issues that come with the territory. Rosemond presents a tried-and-true recipe for bringing out the very best in young children that translates into later success in school, with peers, and throughout their lives."

Touchpoints: Birth to 3

by T. Berry Brazelton, published October 2006
"T. Berry Brazelton's great empathy for the universal concerns of parenthood, and honesty about the complex feelings it engenders, as well as his uncanny insight into the predictable leaps and regressions of early childhood, have comforted and supported families since its publication in 1992. In this completely revised edition Dr. Brazelton introduces new information on physical, emotional, and behavioral development. He also addresses the new stresses on families and fears of children, with a fresh focus on the role of fathers and other caregivers. This updated volume also offers new insights on prematurity, sleep patterns, early communication, toilet training, co-sleeping, play and learning, SIDS, cognitive development and signs of developmental delay, childcare, asthma, a child's immune system, and safety. Dr. Sparrow, Brazelton's co-author on several other books, brings a child psychiatrist's insights into the many perennial childhood issues covered in this comprehensive book."

Touchpoints Three to Six: Your Child's Behavioral and Emotional Development

by T. Berry Brazelton and Joshua D. Sparrow, published September 2002.
This is a continuation of their successful series. "Trusted parenting expert T. Berry Brazelton applies his renowned "touchpoints" concept to the preschool, kindergarten, and first-grade years in Touchpoints Three to Six. The touchpoints concept aims to help readers take advantage of the moments of frustration and regression that accompany a child's natural progression and emotional development, and use these moments to strengthen the bond between parents (or pediatrician or other caregiver) and child."

↑ Top of page ↓ Bottom of page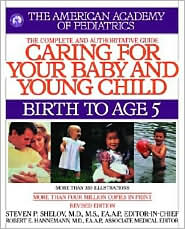 Caring for Your Baby and Young Child: Birth to Age 5

from the American Academy of Pediatrics, published June 1998
"The organization that represents the nation's finest pediatricians and the most advanced research and practice in the field of child care answers all your medical and parenting questions. Here is sound, reassuring advice on child rearing that covers everything from preparing for childbirth to toilet training to nurturing your child's self-esteem. Here, too, is an indispensable guide to recognizing and solving common childhood health problems, plus detailed instructions for coping with emergency medical situations."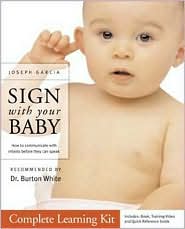 Sign with your Baby: Complete Learning Kit (book, video, and quick reference guide combination)

by Joseph Garcia, published July 1999
"This book teaches hearing parents how to use simple sign language gestures to communicate with their hearing infants before their infants can speak. Joseph Garcia uses anecdotes, practical guidelines and humor to explain the benefits and method for taking advantage of this unique form of early communication. He will help you recognize when your child is receptive to learning. He recommends which signs to teach first and shares ideas for games that can be fun and useful when introducing new signs. The book is also a useful reference with 145 clearly illustrated signs, enabling you to choose and teach the signs that will be most beneficial to you and your child." Also available are: Signing book/DVD
, Signing book only
, and the Quick reference guide
. Some adoptive parents have found it helpful to start signing with their children; they are quick to pick up the signs and it decreases frustration when they have not learned English yet.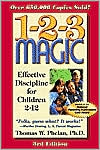 1-2-3 Magic: Effective Discipline for Children 2-12

by Thomas W. Phelan, 3rd edition, published October 2003
"It's not easy being a parent. You want kids who listen and children you can enjoy. You want to raise happy and competent youngsters, but you don't have a lot of free time to read discipline and parenting books. You also don't need advice that requires you to be a saint, genius or professional psychologist. This new 3rd edition of the extremely popular 1-2-3 Magic program addresses the difficult task of child discipline with humor, keen insight and proven experience. Dr. Phelan simplifies the job of parenting in three straightforward steps. In 1-2-3 Magic you will also learn how to manage the Six Kinds of Testing and Manipulation, how to handle misbehavior in public and how to avoid the Talk-Persuade-Argue-Yell-Hit Syndrome. You'll also discover how your silence can speak louder than your words." Also by the same author: 1-2-3 Magic: Managing Difficult Behavior in Children 2-12
, published April 2005, is a DVD that "adresses the task of disciplining children without arguing, yelling, or spanking, this program offers easy-to-follow steps to manage troublesome behavior with patience and compassion." 1-2-3 Magic: Effective Discipline for Children 2-12
is in CD format, published April 2006. "This revised edition includes suggestions on how to avoid over-parenting, build children's social skills, and apply the program within mental health agencies and classrooms." More 1-2-3 Magic: Encouraging Good Behavior, Independence, and Self-Esteem
, published August 2004, is a DVD "featuring real-life family vignettes, this presentation explains how to encourage positive behavior, responsible independence, and a healthy self-concept in children." In Surviving Your Adolescents: How to Manage and Let Go Of Your 13-18 Year Olds
(published January 1998), the author "...understands the tests of patience adolescents can inflict on their parents and offers lessons that address not only authority and discipline, but also compassion and empathy."

↑ Top of page ↓ Bottom of page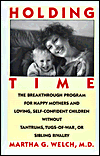 Holding Time

by Martha G. Welch, published October 1989
"A breakthrough parenting strategy that will end problem behavior and revolutionize the way mothers and children relate to each other."

Parenting with Love and Logic: Teaching Children Responsibility

by Jim Fay and Foster W. Cline, et. al., updated April 2006
"This well-known child psychiatrist has written a book to help parents raise kids who are self-confident, motivated, and ready for the world by teaching them responsibility and the logic of life by giving them the opportunity to solve their own problems from the earliest possible age."

Love & Logic Magic for Early Childhood

by Jim Fay, et. al., published July 2000
Practical parenting from birth to six years. "The tools in Love and Logic Magic for Early Childhood will give you the building blocks you need to create children who grow up to be responsible, successful teens and adults. And as a bonus you will enjoy every stage of your child's life and look forward to sharing a lifetime of joy with them."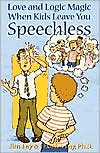 Logic Magic When Kids Leave You Speechless

Great comebacks every parent needs. From toddler to teens, you'll find yourself prepared when your kids say things like: "It's not fair!" "But why?" "Yuck! I don't want that to eat." "None of my friends do chores." "I'm 16, you owe me a car." "All my friends use drugs." And all those words they don't learn at home.

Parenting Teens with Love and Logic: Preparing Adolescents for Responsible Adulthood

by Foster W. Cline, et. al., updated April 2006
"Love means giving your teen opportunities to be responsible and empowering them to make their own decisions. Logic means allowing them to live with the natural consequences of their mistakes and showing empathy for the pain they will experience."

↑ Top of page ↓ Bottom of page


The Pocket Parent

by Gail Reichlin and Caroline Wrinkler, published October 2001
"The Pocket Parent is a lifesaver of tried-and-true advice, common sense, parental wisdom, and sanity. Its philosophy of discipline marries unconditional love with firm limits; its strategies bring both immediate relief and long-term understanding to children's behavior problems." Gets excellent rating from customer reviewers.

Your Child's Health

by Barton D. Schmitt, published November 2005
"The Parents' One-Stop Reference Guide to: Symptoms, Emergencies, Common Illnesses, Behavior Problems, and Healthy Development."

Easy to Love, Difficult to Discipline

by Becky Anne Bailey, published January 2002
"Parents who love their children, but who don't always love their children's behavior?or their own responses to that behavior?will find powerful help in this book that offers new discipline tools for new times. Dr. Becky Bailey's unusual approach to parenting has made thousands of families happier and healthier. Why? Because her methods help parents as well as children maintain self-control while building confidence and competence in conflict situations. Based on Dr. Becky Bailey's more than 25 years of work with children of all ages, Easy to Love, Difficult to Discipline first helps parents become aware of how they treat themselves-because how we discipline ourselves is how we discipline our children. She teaches Seven Powers for Self Control that dramatically increase our resourcefulness in any sticky situation with children from toddler through school age. From these we learn Seven Basic Discipline Skills to help children move "from willful to willing" in day-to-day encounters at home and at school. As children internalize these skills, they naturally acquire Seven Values for Living that include integrity, respect, compassion, responsibility, and more. Down-to-earth anecdotes show the process in action, and a seven-week program gets parents off to a quick start. The results far exceed most parents' dreams. Packed with the examples, expertise and humor that have endeared her to families nationwide, Becky Bailey gives us the tools to stop policing and pleading and start being the parents we want to be."

The Joy of Signing: The Illustrated Guide for Mastering Sign Language and the Manual Alphabet
by Lottie L. Riekehof, published January 1987
"In this standard work on sign language for the deaf, over 1500 signs have been clearly illustrated and are grouped by chapter into their natural categories. Line drawings and step-by-step descriptions of hand positions aid rapid learning." You may also be interested in The Joy of Signing Puzzle Book by the same author.

For other parenting references, especially for special needs topics, visit the FRUA bookstore
and the Little Miracles bookstore
, or search for the topic on Barnes and Noble.
Parenting & Family Books
on Barnes and Noble.
Search Barnes and Noble
or Abebooks
for any book.
|
---
|
Page last updated on 21 July 2009.
Copyright © 2000-2016 Kazakh Adoptive Families. All rights reserved. Privacy Policy