Parenting and Schooling
Have you read any of the books listed here? Would you like to let others know what you thought of it? If so, please fill out a Book Review
and I will add your comments. All of these book links open in a new window
, so that you can continue to browse my bookstore while purchasing the books. A
next to a book indicates that it has been added in the last month.
Adoptive Families
has several articles about schools and adoption that you can print out.
S.A.F.E. at School
"presents 5 proactive strategies to help teachers and counselors create a positive adoption environment in school: Acceptance, Accuracy, Assignments, Assistance, and Advocacy. Background material is included on: adoption today, unique educational needs of some students, and how students at all ages are likely to comprehend the complexities of adoption. Guidelines and examples are provided to improve communication about adoption while protecting the privacy of personal adoption stories. S.A.F.E. is a complete--but simple--tool for addressing the complex topic of adoption in ANY school." It is also available from the publisher Center for Adoption Support and Education
.
The Educated Child: A Parent's Guide from Preschool through Eighth Grade

by William J., Bennett, et. al., published November 2000
from the introduction: "The purpose of this book is to help you secure a good education for your child from early childhood through the eighth grade. As far as learning goes, these years are far and away the most important. They are the time when children acquire the bricks and mortar of a solid education -- the knowledge, skills, habits, and ideals that will serve as the foundation of learning and character throughout their lives. If that edifice is solid by the end of eighth grade, then a student's future is bright indeed. If poorly constructed, the outlook is much dimmer."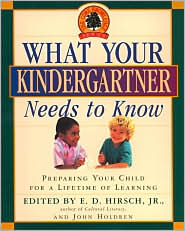 What Your Kindergartner Needs to Know

editors: E.D. Hirsch and John Holdren, published September 1997
"With its comprehensive curriculum providing a sound basis in the fundamentals of math, art, history, language arts, science, and technology, the phenomenally successful Core Knowledge series has become an esteemed tool for parents and teachers striving to better educate today's children. And since it is agreed that the first years of schooling are crucial to a child's lifetime educational achievements, it is no wonder that parents and teachers alike have been asking for a volume for kindergartners." The series continues for What Your First Grader Needs to Know
, What Your Second Grader Needs to Know
, What Your Third Grader Needs to Know
, What Your Fourth Grader Needs to Know
, What Your FIfth Grader Needs to Know
, and What your Sixth Grader Needs to Know
. Some of them are a little out-of-date, but they would be a good resource as you decide grade placement.


Books to Build on: A Grade-By-Grade Resource Guide for Parents and Teachers

editors: E.D. Hirsch and John Holdren, published November 1996
"The hugely successful Core Knowledge Series has told the parents of first- through sixth-graders what they need to know. Now this essential companion volume helps those parents finds the books and other resources that will allow their children to learn even more about their favorite subjects. BDD online feature." From the editors of the What your ___ Needs to Know series. A little old, but still a valuable resource.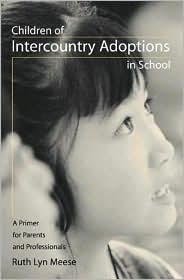 Children of Intercountry Adoptions in School: A Primer for Parents and Professionals

by Ruth Lyn Meese, published September 2002
"Children of intercountry adoption have complex histories that place them at high risk for difficulty or failure in school. Teachers and other school professionals rarely know how to test them, teach them, or meet their needs. This volume explains those needs and offers guidelines and suggestions for maximizing the educational performance of these children and helping them to meet their potential."

↑ Top of page ↓ Bottom of page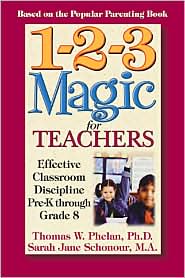 1-2-3 Magic for Teachers: Effective Classroom Discipline Pre-K Through Grade 8

by Thoms W. Phelan and Sarah Jane Schonour, published September 2004
"Offering advice for teachers eager to develop better discipline in the classroom, this guide provides practical methods for eliminating disruptive behavior, encouraging productive work habits, and communicating with parents. Clear lessons and straightforward language reveal how to measure discipline in a classroom environment, as well as how to handle difficult situations, such as transition times, assemblies, lunchtime, and field trips. A separate chapter for school administrators explains how to support classroom teachers in creating discipline and how to evaluate those teachers." This would make a great gift for a new teacher.

Making the Grade: Everything Your Kindergartener Needs to Know

by Proof Positive/Farrowlyne Associates Inc. for Barron's Guides for Schooling Basics, published February 2004
"It's a combination manual and advice book, suitable both for parents cooperating with their child's teachers in standard classroom settings, and for home schoolers, where parents take direct control of their child's studies. Making the Grade books are not textbooks, but practical curriculum guides. Written by authorities in elementary education, they advise parents on books, software, and other teaching tools. Each book presents guiding principles for teaching reading, writing, math, social studies, and science. Pages are perforated for multipurpose use. Each title in the series contains four curriculum sections: Promoting literacy (reading, writing, listening, and speaking), Math (number patterns, problem solving, and other math-related concepts), Science (life, earth, and physical sciences), Social Studies (history, geography, economics, and culture). Each section outlines subject matter to be covered, augmented with planning and implementation strategies for parents and teachers. Advice includes ways to explain difficult concepts to children, suggestions for interactive learning in music and art, activities to promote hands-on learning experiences, and more. Sections titled In Your Community describe ways to integrate local cultural affairs, business activities, environmental concerns, and government functions with a child's education." The series continues with: Everything Your 1st Grader Needs to Know
, Everything Your 2nd Grader Needs to Know
, Everything Your 3rd Grader Needs to Know
, Everything Your 4th Grader Needs to Know
, Everything Your 5th Grader Needs to Know
, and Everything Your 6th Grader Needs to Know
.

Teach Your Child to Read in 100 Easy Lessons

by Siegfried Engelmann, et. al., published June 1986
"SRA's DISTAR is one of the most successful beginning reading programs available to schools. Research has proven that children taught by the DISTAR method outperform their peers. Now, this program has been adapted for use at home. In only 20 minutes a day, this remarkable step-by-step program teaches your child to read--with the love, care, and joy only a parent and child cane share."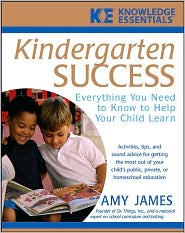 Kindergarten Success
: Everything you need to know to help your child learn.
by Amy James, published Juy 2006
"shows you how to enrich your child's classroom learning and take an active role in your kindergarten's education by exploring: What your child is learning at school and the educational standards to expect in math, language arts, science, and social studies--as well as the developmental skills expected of your kindergartener; Your child's learning style--visual, auditory, or kinesthetic-- and how it affects the way your child learns and processes information; Hundreds of easy-to-do activities designed to help your child meet specific learning requirements; Environmental learning sections that identify learning opportunities in the everyday world; Methods and checklists to assess your child's progress; The developmental and social changes expected of your kindergartener as well as information on how to determine readiness to move up to the first grade; and Recommendations of age-appropriate books and software that will enhance learning. The series continues with First Grade Success
and Second Grade Success
. A new book in this series is School Success for Children with Special Needs
, published January 2008.
the way they learn

by Cynthia Ulrich Tobias, published April 1998
"The learning-styles expert gives parents a better understanding of the types of learning approaches that will help their children do better in school."

↑ Top of page ↓ Bottom of page


Some people choose to home school their children for a while (or longer) after coming home to speed their adaptation to American schools. Following are books for home schooling. Many communities have support groups for those home schooling, so be sure to check for local sources.


Homeschooling: The Early Years - Your Complete Guide to Successfully Homeschooling the 3- to 8- Year-Old Child

by Linda Dobson, published August 1999
"Young children are full of curiosity, imagination, and a sense of wonder. They're willing to try new things and possess a natural joy of discovery. Yet in a traditional school, these natural behavior traits are too often squelched. That's why more and more parents just like you are choosing to teach their children at home during these critical years - the years that lay the foundation for developing learning skills that last a lifetime. Inside, respected homeschooling author Linda Dobson shows you how homeschooling can work for you and your young child." Other titles from this author: Ultimate Book of Homeschooling Ideas
(500+ Fun And Creative Learning Activities For Kids Ages 3-12) and Homeschool Book of Answers
(The 101 Most Important Questions Answered by Homeschooling's Most Respected Voices).

100 Top Picks for Homeschool Curriculum: Choosing the Right Curriculum and Approach for Your Child's Learning Style

by Cathy Duffy, published February 2005
"The key to successful home education, homeschool veterans will tell you, is determining your educational philosophy and marrying it to your child?s learning style. Then you can make an informed decision in choosing the right educational curriculum for the child. This is the formula for success. In 100 Top Picks for Homeschool Curriculum, homeschool guru Cathy Duffy can help you accomplish these critical tasks. Cathy will give you her top choices from every subject area, approaching everything through a Christian worldview perspective. This book is a critical volume for the homeschooling community."

Home Learning Year by Year: How to Design a Homeschool Curriculum from Preschool through High School

by Rebecca Rupp, published October 2000
"Finally, homeschoolers have a comprehensive guide to designing a homeschool curriculum, from one of the country's foremost homeschooling experts. Rebecca Rupp presents a structured plan to ensure that your children will learn what they need to know when they need to know it, from preschool through high school. Based on the traditional pre-K through 12th-grade structure."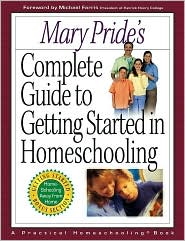 Complete Guide to Getting Started in Homeschooling

by Mary Pride, published October 2004
"For the past decade and a half, Practical Homeschooling magazine publisher Mary Pride has helped hundreds of thousands of families just like yours homeschool with confidence. Now you can draw on her years of experience, as well as those of Practical Homeschooling writers and staff. Packed with insider information, Mary Pride's Complete Guide to Getting Started in Homeschooling helps you pinpoint the best teaching methods for your child...catch up with what's new in homeschool options and issues...and get inspired with the success that's waiting for you! Ideal for new homeschoolers and those just considering homeschooling, Mary Pride's Complete Guide is also sure to please veteran home educators with its up-to-date and expanded information on how to find everything from the newest contests to the coolest learning adventures."

Alpha Omega Publications! The ultimate homeschool experience!

Alpha Omega Publications provides Christian curriculum for grades K through 12. Product lines include Switched-On Schoolhouse (CD-ROM multimedia and interactive format. The five core subjects: Bible, Language Arts, Math, History and Geography, and Science - plus a variety of electives), LIFEPAC (Christian curriculum designed to teach five core subjects plus an array of electives; full-color worktext curriculum), Horizons (builds fundamental skills in mathematics and language, an alternative to the LIFEPAC curriculum for elementary students), and The Weaver Curriculum (Scriptural lessons, based on the books of the Old Testament, "weave" througout the basic subject lessons).

For other parenting references, especially for special needs topics, visit the FRUA bookstore
and the Little Miracles bookstore
, or search for the topic on Barnes and Noble. The Yahoo Group PAKK
also has documents pertaining to school services. Look at my Resources page for additional schooling links.
Parenting & Family Books
on Barnes and Noble.
Search Barnes and Noble
or Abebooks
for any book.
|
---
|
Page last updated on 18 February 2008.
Copyright © 2000-2016 Kazakh Adoptive Families. All rights reserved. Privacy Policy