Have you read any of the books listed here? Would you like to let others know what you thought of it? If so, please fill out a Book Review
and I will add your comments. All of these book links open in a new window
, so that you can continue to browse my bookstore while purchasing the books. If you see
next to a listing, it is available for download; clicking it will automatically launch iTunes or, if you don't have this application, it will take you to the iTunes download page.
A
next to a book indicates that it has been added in the last month. The books are listed here in no particular order, with the newer listings at the bottom. You may be able to find other information on the Lanugage for Children page of the bookstore or the Russian Language page.
The only Russian language guide written specifically for adoptive families is Adopting from Russia, a Language and Parenting Guide, by Teresa Kelleher. It consists of a 45-minute, professionally recorded CD and 67-page handbook (20 pages of language info; 40+ pages with tons of practical info).
* Useful phrases in Russian and English suitable for young children.
* Supplemental vocabulary with pronunciations written and on cassette.
* Ideas for waiting, travel, enhancing bonding and decreasing frustration as a new parent.
* No time consuming learning of Cyrillic letters
* Chapters include: Speaking and Pronunciation, Vocabulary (With Hosts, When you meet your child, Early days together, In the bathroom, Food and drinks, Clothing, On the train, On the plane, Numbers and colors, Other helpful terms) Easing the transition, Resources for Adopting, Orphange Donation items and a Personal bio of the author.
From the author: "....so I decided to help others have the same advantage: to be able to talk with their children in their first weeks together. The set has been evaluated by native Russian speakers and lots of parents (prospective adoptive parents wishing to learn Russian and parents who have adopted). It has gotten excellent reviews from native Russian speakers as well as those learning Russian." The author will donate 10% (or more) to overseas orphanages. You order it directly from the author. See the order form
for further details. Even though I adopted an infant, I wish I had gotten this tape to make more of an attempt at communicating while I was in Kazakhstan.

The Pimsleur programs provide a method of self-practice with an expert teacher and native speakers in lessons specially designed to work with the way the mind naturally acquires language information. The various components of language -- vocabulary, pronunciation and grammar -- are all learned together without rote memorization and drills." Older editions and other versions may be available through used book sellers or a public/university library.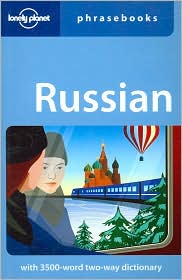 Lonely Planet Russian Phrasebook

by James Jenkin, et.al., 4th edition, published March 2006.
"You're in Russia. Chances are you'll have to stand in line at least once. With this book in hand, this potentially dreary experience could become a social event. Talk politics, meet the love of your life or simply ask where the toilets are. It's really up to you but if you don't try, you'll never know what's possible. Take control of your travels and open your mouth. Includes: greetings and etiquette explained, clear and concise grammar section, pronunciations supplied throughout, cultural tips that will help you see Russia from the 'inside', eat and drink Russia, extensive two-way dictionary."

↑ Top of page ↓ Bottom of page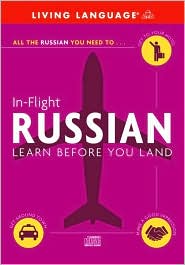 In-Flight Russian: Learn Before You Land
|

by Living Language, published in July 2001
One hour CD. "Living Language In-Flight Russian is the perfect boarding pass to learning Russian before you land. There's no better way to make use of all that spare time on a plane than to master the essentials of a language. This 60-minute program is the simplest way to learn just enough to get by in every situation essential to both the tourist and business traveler. The program covers everything from greetings and polite expressions to asking directions, getting around, checking into a hotel, and going to a restaurant. There are even sections for meeting people and spending a night on the town. Short lessons make In-Flight Russian easy to use, and a handy pocket-sized insert is included as a cheat sheet for use on the go."

Russian: Complete Course

by Living Language, published June 2005
"The top-selling Complete series has been fully revised, with all new supplemental material and a bonus wallet phrase card for travelers. Each program contains everything a beginner needs-a coursebook with 40 lessons, three hours of recordings on three CDs, a quick-reference learner's dictionary, and an all-new indispensable wallet phrase card, all in a convenient and compact package. The courses still use the popular and effective conversation building-block method, but all content has been thoroughly updated and now includes e-mail essentials and internet resources for each of the eight languages in the series. In addition, 18 supplemental vocabulary sections, covering such topics as "Family and Relationships," "On the Job," "Sports and Recreation," and "Around Town," are now included. As an added bonus, the new handy wallet phrase card with 300 essential words and phrases is the perfect reference for on-the-go learners, travelers, and businesspeople. It uses a highly effective speed-learning method developed by U.S. government experts to teach languages to overseas-bound service personnel and diplomats."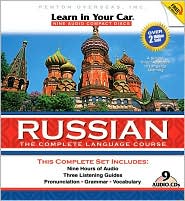 Learn in Your Car Russian: CD Set
or Learn in Your Car Russian: Cassette Set

Manufactured by Penton Overseas Inc., published September 2006. The set contains all 3 levels. Each level is also available individually (published September 2006) and from iTunes (older editions):
Level 1
,
Level 2
,
Level 3
.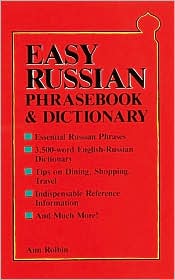 Easy Russian Phrasebook and Dictionary

by Ann Rolbin, published September 1994
"The Easy Russian Phrasebook and Dictionary is both a practical phrasebook of essential Russian travel vocabulary and expressions and an extensive 3,500-word English-Russian dictionary. It is also a handy reference providing varied cultural information you will find indispensable when traveling in Russia. Beginning with the basics of the Russian language and pronuncation, the phrasebook section of this book covers key expressions and sentence patterns needed when: asking for information, buying tickets, passing through customs, taking public transportation or taxis, checking into and out of hotels, making phone calls, exchanging money, finding a place to east, ordering meals, sightseeing, shopping, gettting help, and much more."

↑ Top of page ↓ Bottom of page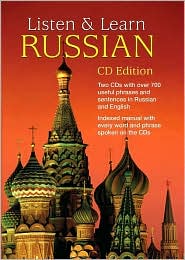 Listen & Learn Russian

by Helen Michailoff, published June 2006
"Utilizing the phrase method advocated by most language authorities as the fastest and most efficient approach, this system is designed to meet then needs of people with limited study time. Featuring two CDs and a manual, each set contains 90 minutes of speech: English, then the Russian equivalent followed by a pause for repetition."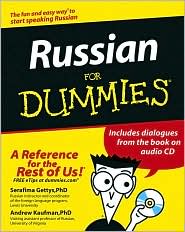 Russian for Dummies

by Andrew Kaufman, et. al., published May 2006
"Russian is spoken by nearly 450 million people, and demand for Russian-speakers is growing. This introductory course includes an audio CD with practice dialogues-just the ticket for readers who need basic Russian for business, school, or travel."

The Complete Idiot's Guide to Learning Russian

by Christopher Froehlich, published in March 2004
"Does learning Russian have to be so hard? Nyet! Learn the basics of the Russian language without getting discouraged. This friendly, fun, and practical approach offers first-time learners and re-learners of Russian the basics of grammar, vocabulary, pronunciation, and conversation. Whether learning Russian for business, school, or travel, or just to have a friendly conversation, this book is must."

Learn Russian the Fast and Fun Way: The Activity Kit That Makes Learning a Language Quick and Easy!
by Thomas R. Beyer, published April 1993
"The emphasis is on the Russian needed by tourists and businesspeople, as well as young people, in the newest addition to Barron's Fast and Fun Way language series. Cheerful illustrations, grammar and vocabulary flash cards, learning exercises in the form of games and puzzles, and a special pull-out bilingual dictionary with a food and drink guide are just a sampling of the attractive features that help make learning Russian an adventure."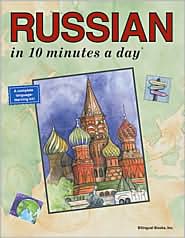 Russian in 10 Minutes a Day

by Kris Kershul, et. al., published November 1997
"Bilingual Books eliminates the intimidation of the Cyrillic alphabet by teaching how to crack the code without fear! By using the many similarities in both sounds and letters, travelers learn quickly how to navigate the local transportation system, order tins of caviar, or even arrange a tour of Lubyanka prison."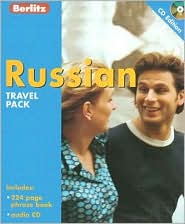 Berlitz Russian Travel Pack

from Berlitz Publishing, published July 2003
Contains an audio CD and a phrasebook. "From ordering beef stroganaf to purchasing tickets for the Moscow circus, learn basic Russian words and phrases quickly with Berlitz Russian CD Pack. This popular series helps ensure a more enjoyable, successful, and rewarding trip. Practice pronunciation and listening comprehension before you leave, then take the book along for an optimal travel experience."

↑ Top of page ↓ Bottom of page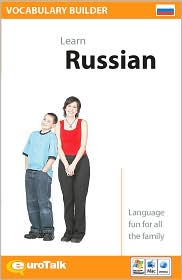 Vocabulary Builder Russian

from EuroTalk, published in November 2007
"Primarily aimed to meet the requirements of children from 4-12, this package has proved popular with adults too! The beautiful illustrations will improve your whole family's language skills with words and phrases such as 'the gorilla is in the car', 'the duck is under the desk' and 'the frog is on the lily pad'." Although primarily for children, this would be useful for anyone just starting out. CD-ROM for PC/Mac, interactive flash card system. From the same publisher: Talk Now! Russian
(published November 2007, "Essential words and phrases for absolute beginners. Ideal for travelers, business people, schoolchildren, students and families), Talk More! Russian
(published November 2007, "Talk More! is the latest series in the EuroTalk line for beginners to intermediates. It is the next step up in fluency level from our best-selling Talk Now! line) and World Talk Russian
(published November 2007, "World Talk is aimed at intermediate level learners who have already built up some confidence listening to and speaking their target language). They may also be available from the Eurotalk Interactive
publisher's website.

A Spoonful of Russian "is a (free) podcast for those who want to learn conversational Russian from a native Russian speaker. For all ages. Homeschoolers are welcome."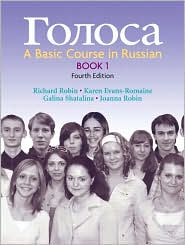 Golosa, A Basic Course in Russian, Book 1

by Richard Robin, et. al., 4th edition, published July 2006.
Book 1, Student Activities Manual/Workbook
, published July 2006, 4th edition.
Golosa, A Basic Course in Russian, Book 2
, 4th edition published July 2007.
Book 2 Student Activities Manual
, 4th edition published July 2007.
"Golosa is a two-volume, introductory Russian-language program that strikes a balance between communication and structure. It is designed to help students reach the Intermediate range in speaking and listening plus reading and writing. Each volume of Golosa includes a textbook, a student workbook with audio drills and written exercises, and an audio program that includes listening comprehension exercises, dialogs, conversations, and rapid-pace oral drills. The robust Golosa Companion Website
offers additional lexical and grammatical exercises, links to authentic Russian websites, and the entire Golosa audio program. Each unit in the program revolves around a theme (university, family, etc.), and follows the same basic format: introduction of basic vocabulary for the chapter theme, listening to introductory conversations, short dialogs with activities and role-play practice, practice in listening and reading with emphasis on strategies, grammar study and practice in both oral and written form, and written workbook exercises that go from mechanical skill-building to creative skill-using." The Golosa website has video, grammar exercises, vocabulary cards, and supplemental activity suggestions.

Learn the Lingo - Travellers Language Guides
: learn Russian, Turkish (related to Kazakh) or any of the 13 other languages offered. It is free, so why not give it a try!
Transparent Language
has many products for learning Russian.

Russian, a Language Map

by Kristine K. Kershul, published May 2001
"Travelers will love these Language Maps® by Kristie K. Kershul. A patented lamination process allows these handy Language Maps® to fold and unfold in a snap without tearing. Each Language Map® contains over 1,000 words and phrases split into important sections covering the basics for any trip. The phonetics are based on American English making foreign words and sounds easy to pronounce. The Language Maps® are so beautifully illustrated that all travelers will be proud to use them in any setting, whether dining in an expensive restaurant or buying tickets to a museum." According to an adoptive mom: "It has English words, Russian words and the Russian pronunciation of the word. It includes sections on Meeting People, Asking Questions, Numbers, Telephone & Internet, Mail, Calendar & Time, Shopping, Alphabet, Sightseeing, Money, Transportation, Hotels, Emergencies and Dining Out. It was $7.95 and I think it was well worth it."

See the Russian Language
page for additional resources on using Cyrillic fonts and online sources for learning Russian. Go to the Language for Children
page for books appropriate for children.
Search Barnes and Noble
or Abebooks
for any book.
|
---
|
Page last updated on 18 February 2008.
Copyright © 2000-2016 Kazakh Adoptive Families. All rights reserved. Privacy Policy