Have you read any of the books listed here? Would you like to let others know what you thought of it? If so, please fill out a Book Review
and I will add your comments. All of these book links open in a new window
, so that you can continue to browse my bookstore while purchasing the books. A
next to a book indicates that it has been added in the last month.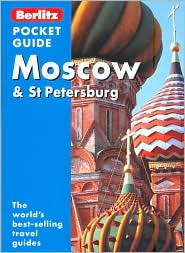 Berlitz Pocket Guide: Moscow
& St. Petersburg
Tony Halliday (editor), 11th edition, published March 2006
Where to go: The Kremlin, Red Square, Theater Square, Around the Garden Ring, Outlaying Attractions, Day Trips. What to do: shopping, entertainment, sports. Also eating out, travel tips, hotels and restaurants.

Eyewitness Travel Guide: Moscow

by DK Publishing, published January 2007.
"This guide to Moscow includes 750 color photographs that will help show you all that Moscow has to offer. Covering hotels, restaurants, and bars, as well as must-see attractions like the Kremlin, Red Square, and Tverskaya, this book offers practical advice for a fascinating Moscow vacation."

Fodor's Moscow and St. Petersburg

7th edition, published July 2006
"Gold-domed churches, sunset-hue palaces, lollipop-stripe cathedrals, lavish wooden dachas, and jeweled Fabergé creations all engage your imagination in Moscow and St. Petersburg. Follow in the footsteps of a tsar at the Kremlin, stamped by rulers from Ivan the Terrible to the Romanovs. Venture to still-imperial St. Petersburg and elbow with the spirits of Dostoevsky and Tchaikovsky. Our local writers have found the best hotels, restaurants, attractions and activities to prepare you for your journey. Before you leave, be sure to pack your Fodor's guide to ensure you don't miss a thing. The San Francisco Chronicle sums it up best - 'Fodor's guides are saturated with information.'
- Two-color interior design makes it easier to find the information you need
- Fodor's Choice Ratings flag must-see sights and hidden treasures
- Hotel and restaurant reviews cover all budgets
- Plus multi-day itineraries to help you build the right trip for you and/or your family."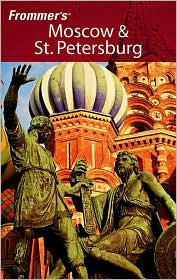 Frommer's Moscow & St. Petersburg

by Angela Charlton, published January 2006
"Savvy insider tips on exploring the treasures of the Hermitage Museum and the Kremlin. Outspoken opinions on what's worth your time and what's not. Exact prices, so you can plan the perfect trip whatever your budget. Off-the-beaten-path experiences and undiscovered gems, plus new takes on top attractions. Find great deals and book your trip at Frommers.com."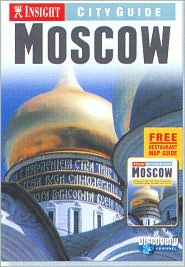 Insite City Guide: Moscow

edited by Brian Bell, published June 2006

↑ Top of page ↓ Bottom of page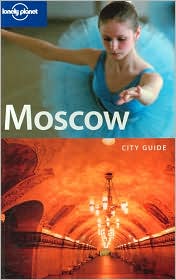 Lonely Planet Moscow: City Guide

by Mara Vorhees, published March 2006
"Delight in the iconic onion domes of St. Basil's Cathedral, treat yourself to world-class ballet at the Bolshoi, be dazzled by chandeliers in the metro and get steamed and washed a a banya. From the splendour of the Kremlin to the fine dining haute-russe, you'll discover a city that's cloaked in history and embracing the future. Revel in this frenetic, changing capital with this best-selling guide."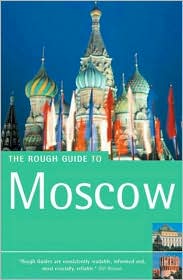 The Rough Guide to Moscow (4th ed.)

4th edition, published April 2005
The Rough Guide to Moscow is the insider's handbook to Russia's fastest changing city. Includes: extensive coverage of all the sights from the Kremlin cathedrals and palaces to Gorky Park and the KGB Museum; lively reviews of the best places to stay, eat and drink, plus the lowdown on ballet, concert-going and clubbing; detailed accounts of trips to the Trinity Monastery, Lenin's estate, the lovely medieval town of Suzdal, and other nearby attractions; informed background on Moscow's history, politics and culture, from Ivan the Terrible to Putin, and from Tchaikovsky to TaTu; and maps and plans covering the city and day-trips.

Moscow and St Petersburg

by Masha Nordbye, 2nd edition, published June 2003
"This book contains a wealth of information on the two cities and the regions surrounding them: fully updated histories and cultural connections of the cities, information on finding accommodation, shopping and restaurants, details of museums, architectural landmarks and theatre and comprehensive tours of each city. Also included is an indispensable guide to the Golden Ring, a series of ancient Russian towns set in the stunning countryside around Moscow."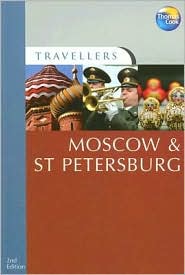 Travellers Moscow & St. Petersburg

by Chris Booth, 2nd edition, published April 2006
"The Thomas Cook Traveller to Moscow & St Petersburg comes from the world's leading travel experts and has everything you need to plan the perfect trip: The top sights and the less well-known ones, Walks and tours with clear maps, Places off the beaten track, Special features on cultural background and other aspects, Holiday hints and tips, A-Z of essential information, Advice on shopping, eating out, sport and nightlife."

Search Barnes and Noble
or Abebooks
for any book.
|
---
|
Page last updated on 18 February 2008.
Copyright © 2000-2016 Kazakh Adoptive Families. All rights reserved. Privacy Policy